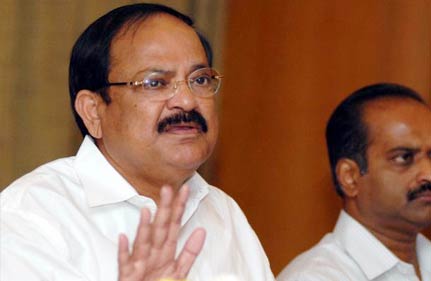 New Delhi, Nov 16: Armed with Supreme Court's observations on the spectrum allocation scam, the BJP today targeted Prime Minister Manmohan Singh saying he has not been able to assert himself despite several ministries holding views contrary to that of former Telecom Minister A Raja.
On its part, Congress played it safe, saying it has to study the apex court's observations before coming out with any comments.
"We can understand the problem. PM is not in a position to take action. He is not able to assert himself," senior BJP leader Venkaiah Naidu told reporters outside Parliament.
He said on the 2G spectrum issue, the Prime Minister wrote to the minister by way of suggestion. "He (PM) ignored the Finance Ministry express review, ignored Law Ministry express review, ignored telecom secretary disagreeing with the (telecom) minister".
He was reacting to questions on the apex court's observations today in which it asked some embarrassing questions about the lengthy delay on the part of Prime Minister Manmohan Singh in taking a decision on a plea for sanction of prosecution of Raja on the spectrum controversy.
"We find alleged inaction and silence troubling," the court observed and went on to stress that the "sanctioning authority can say yes or no."
"After the SC observations, the PM is duty bound to tell the nation for inaction on both counts-- not responding to the complainant Subramanian Swamy's letter and not acting on time on divergent views of different ministries. He is presiding over a Cabinet. It is a collective responsibility", the BJP leader stressed.
Looking to further corner the PM, Naidu said, "To my knowledge... if there is a disagreement between a secretary and a minister, the matter goes to the Cabinet Secretary and then to the PM or is referred to a Group of Ministers. Why was a GoM was not set up when such variance was there of view in various important ministries on such a crucial matter?"
Congress chose to be cautious. "I do not know what is the observation of the Supreme Court. Whether it is an observation or direction to the government. I have not seen the text of it," party spokesperson Shakeel Ahmed told reporters here. PTI