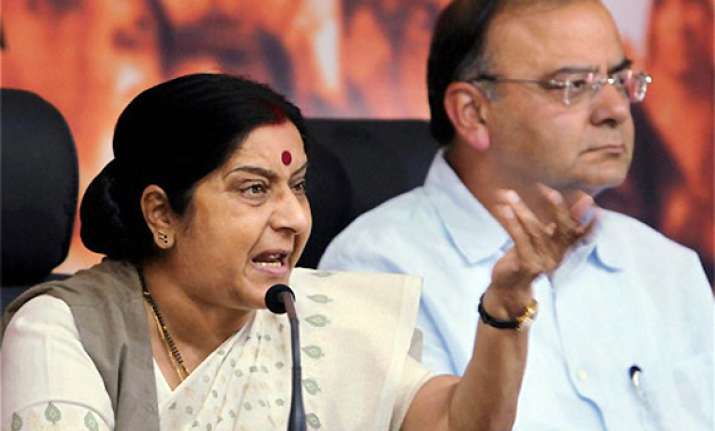 New Delhi, Dec 28: The BJP today hit back at UPA chairperson Sonia Gandhi and Rahul for blaming opposition for the fall of Constitution Amendment Bill in Lok Sabha, saying it was not their responsibility to fulfill "his dream" to give constitutional status to Lokpal.

Indicating that it will move amendments and oppose the Lokpal Bill when it comes to the Rajya Sabha tomorrow, BJP said Congress should first get its own house in order and get its allies on board before taking on the opposition. 

At a press conference here, Leader of Opposition in Lok Sabha Sushma Swaraj said UPA government's claim of commanding a majority in the House was exposed yesterday when the bill on giving constitutional status to the Lokpal was put to vote. 

Not only did the government fail to get the required two-thirds majority but the division of votes showed it was well below the half way mark.

"But Congress has been trying to lay all the blame for failure to pass the constitutional status bill on the BJP. Now even Sonia Gandhi is singing their tune. We have said our commitment is to a strong Lokpal but we cannot support what is patently unconstitutional," Swaraj said.

She insisted that even when the Opposition pointed out that passing the provision for appointment of Lokayuktas in states under Article 253 violated the federal principal and it should be passed under Article 252, the government did not agree. This forced the BJP to oppose it.

On giving Constitutional status to the Lokpal, Swaraj said, "If this was their general secretary Rahul Gandhi's dream, is fulfilling it the responsibility of the BJP? Should Congress not have got the numbers? It could not even muster a simple majority of 273."

Leader of Opposition in Rajya Sabha Arun Jaitley echoed Swaraj's sentiments on alleged breach of federal structure in the Bill, insisting that Parliament cannot pass a legislation knowing it is against the Constitution. 

"It is an obligation of Parliament not to enact imperfect or unconstitutional legislation. We will raise this issue in the Rajya Sabha as well," Jaitley said. 

The BJP is vociferously raising the issue, especially with Congress ally Trinamool Congress stating it would move amendments on the Lokayukta provision as it feels is against the federal structure.

Jaitley said if the Bill is passed in its present form West Bengal Chief Minister Mamata Banerjee will have to accept that her chief secretary will be accountable and answerable to the Centre.

"This Bill completely demolishes the federal structure," he said, adding that such provisions were "non-negotiable".

BJP is likely to move amendments to press for establishing Lokayukta under Article 252, change in the provisions of appointment and removal of Lokpal, to free CBI of government control, among other issues.

"Giving constitutional status to a Lokpal is of no use if Lokpal is a weak law... People are watching the government.  All of us political parties are on trial on what laws we are making.... Parties will be watched if they are willing to proclaim but unwilling to strike," Jaitley said. 

Swaraj said the manner in which government was trying to give Lokpal Bill a constitutional status would only make it "ornamental".

BJP leader Venkaiah Naidu claimed that Lokpal Bill will not be passed by the Rajya Sabha as Congress does not  have the numbers.

"We are confident that the ruling party does not have enough numbers in Rajya Sabha. It (Lokpal Bill) should fall in the Upper House," Naidu told reporters. 

Swaraj took jibes at the government, saying its floor management during the Lokpal debate was so poor that its allies spoke against the Bill while supporting parties like SP, BSP and RJD staged a walkout.

"Finance Minister Pranab Mukherjee kept insisting that the whole game is of 273. The day you have 273 votes you can rule. At the end of the day they could not prove they have 273," Swaraj said.