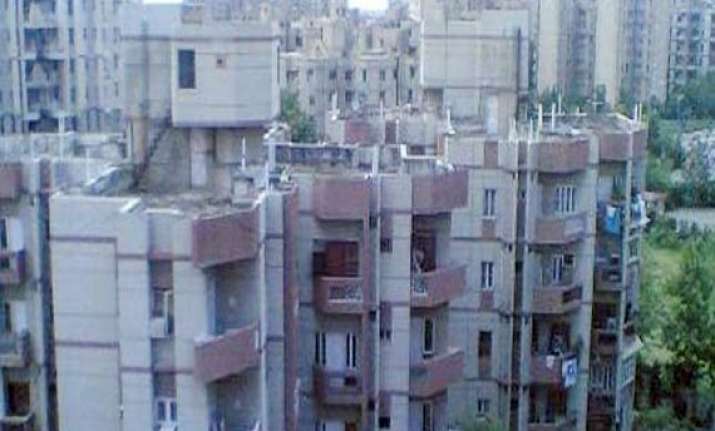 New Delhi, Apr 20:  The  BJP  has alleged bungling in the draw of lots by the DDA through which over 16,100 lucky applicants were selected for its new housing scheme and demanded a CBI inquiry into it.

"Through a reliable source I have found that there has been bungling in the draw of lots. The applicant of application number 821900 was Sunil Kumar Jain.

"Jain was declared successful in the draw of lots. His four sons Sameer Jain, Bhanu Jain, Gaurav Jain and Vivek Jain (App. No. 337382, 715419, 1007146, 1294180 respectively) have also been declared successful in the draw," city BJP chief Vijender Gupta said in a statement.

Similarly, he alleged applicants Poonam Gautam, Rahul Gautam, Preeti Gautam, who are children of a person named Surendra Kumar, have been allotted flats in the draw of lots.

"The numbers of their application are 1070441, 1070442, 1070443 respectively. Can three applicants from the same family be allotted houses in serial numbers?," he said demanding a CBI inquiry.

He also questioned keeping the price of Janata flats at Rs 6 lakh per dwelling unit.

"Government should state that can the poor people afford to pay high price for these flats? The black marketeers will purchase papers from the people who had been declared successful in the draw of lots," he said.

"Can a person of middle income group purchase a flat costing Rs 30 lakh? DDA has fixed the price of high income group houses at Rs 85 lakhs. How much is the salary of a higher class government employee? The price of a Vasant Kunj flat is around Rs 1.12 crores. Can a common man purchase so much costly flats?," he said.

On Page No 888 of 1021 in the Draw of Lots list, there are three names at the bottom which exposes the "free and fair" computerized draw conducted by C-DAC in Noida. The names and details are:

1070441 Poonam Gautam d/o Surinder Kumar    Block A Flat No. 417 2nd floor LIG Kondli Gharoli

1070442 Rahul Gautam s/o Surinder Kumar                         Flat No. 571 Gr Flr LIG Kondli Gharoli

1070443 Preeti Gautam d/o Surinder Kumar                        Flat No. 777 4th Flor Kondli Gharoli

What a hattrick! Either the computer did a once in a zillion chance selection or there was something wrong in the way the draw was conducted. 
DDA Housing Scheme 2010 Draw Result
The draw was held in the morning in the Noida Sector-62 office of the Centre for Development of Advanced Computing (C-DAC), whose help was taken by the DDA for the computerised lottery which went on for two hours and 45 minutes.

Only a handful of mediapersons were allowed into a hall on the first floor with a screen whereas the draw was held on the ground floor, watched by observers—Prabhat Kumar of ICRISAT, B V Rao, editor of Governance Now, Udai Shankar, Director (Finance) in Ministry of Development of North East Region and C K Chaturvedi, Additional District Judge of Saket.

The flats, located in areas like Vasant Kunj, Mukherjee Nagar, Motia Khan, Jasola, Dwarka, Rohini, Narela, Jaffarabad, Kondli and Gharoli, were given under categories like economically weaker section (EWS), one-room tenement, one-bedroom, two-bedrooms and three-bedrooms. The prices ranged from Rs 9 lakh to Rs Rs 1.12 crore.

Meanwhile, the Delhi Development Authority on Wednesday said it has drawn up a waiting list of applicants of its latest housing scheme, the draw results of which had been announced this week.

However, it  said it will neither publish the names nor put the list out on its website as it does not want to "offer any wrong hopes" for people.

The DDA had on April 18 unveiled names of 16,118 lucky applicants who will possess a flat under its 2010 housing scheme.

"We have already drawn up a waiting list. But we are not going to publish it as that will amount to offering wrong hopes to people. If there is any cancellation or vacancy, we will contact the next eligible applicant as per the waiting list," a DDA spokesperson said.

She said cancellations may also occur if the documents of any successful applicant are not found in order.

Asked about reports that members of the same family have got flats in the lottery, the spokesperson said, "The case of one family has come up. The three siblings had applied for flats in Kondli Gharoli where there were a large number of flats on offer. They had applied under the scheduled caste category for which there is a reservation of 17.5 per cent.

"All three siblings are major and independent and can, therefore, be allotted flats under the scheme. A family unit consists of husband, wife and dependents. The draw was held on basis of selection of random numbers," she said.

Citing the case of two families in which siblings and brothers allegedly got flats, the city BJP has alleged "bungling" in the draw and demanded a CBI probe into it. PTI