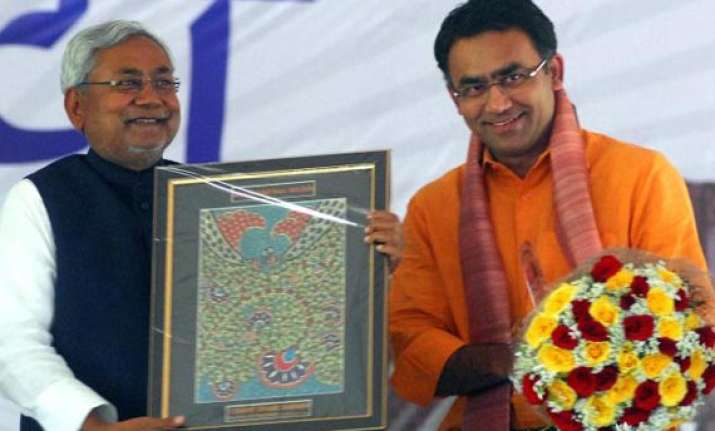 New Delhi, Mar 18: The migration of labourers from Bihar to other developed states like Punjab and Maharashtra has significantly come down, reflecting the state's growth story, Chief Minister Nitish Kumar said on Sunday.

"Big farmers and entrepreneurs in Punjab are complaining labour shortage because of decrease in arrival of labourers from Bihar who are getting employment in their native places itself," he said at a function.

Quoting a survey, Mr. Kumar said the migration of labourers from Bihar to other states has come down almost by 26 per cent because of development work and MNREGA.

He also dismissed suggestions that people of the state were forced to go out for begging.

"It is wrong to say that people from Bihar and Uttar Pradesh are forced to go outside for begging. They indeed go not only to different parts of the country but also abroad to contribute to their economic growth," he said addressing a function to mark 100 years of formation of Bihar.

The Chief Minister said the state is writing a new growth story, as a result of which migration of labourers to Punjab, Maharashtra and Gujarat has come down now.

On the occasion, he also honoured 20 people from the state for their commendable job in various fields that included SEBI Chairman U K Sinha, former Foreign Secretary Shyam Saran, former cricketer Saba Karim and actor Manoj Tiwari.

In an apparent dig at the 15-year rule of RJD government in Bihar, he said people of the state earlier used to hide their identity as they were looked down upon because of lawlessness and poor economic growth in the state.

But with the resurgence of the state, he said, its people living outside seem proud to call themselves Bihari now.

He said Bihar is on the path of development, and earnest efforts are on to usher in a second green revolution in the state.

"The second green revolution in Bihar will not be a photocopy of green revolution in Punjab in 70s but it will have its own model," he said.

Britishers separated Bihar from Bengal on March 22, 1912.

The completion of 100 year of existence is being celebrated in the name of Bihar Shatabadi celebration Utsav.

Convener of the Utsav, Sanjay Jha, who is also a BJP MLC said the NDA government is making efforts to connect people in different parts of the country to address their problems.