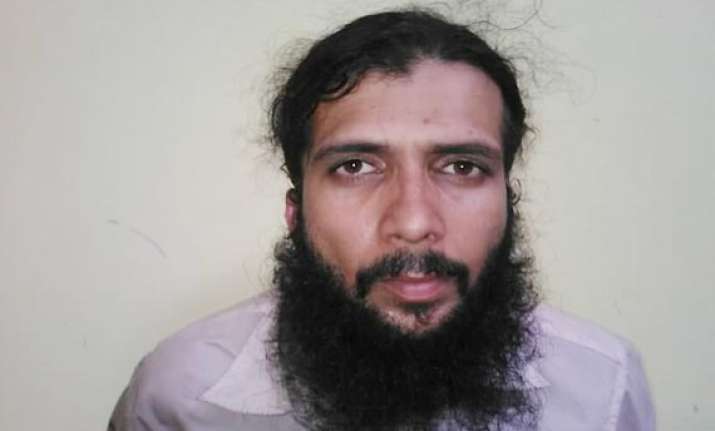 New Delhi: India's premier investigating agency, NIA, Friday got 12 days' custody of Yasin Bhatkal, one of the country's most wanted men and co-founder of Indian Mujahideen, to unravel the wide terrorist infrastructure he helped to build.
NIA special judge I.S. Mehta also sent another Indian Mujahideen operative, Asadulla Akhtar alias Haddi, to 12 days' National Investigation Agency (NIA) custody till Sep 10.
Bhatkal and Akhtar were arrested Thursday from the India-Nepal border - a la Abdul Karim Tunda, a key Lashkar-e-Taiba operative and expert bomb-maker Aug 16.
Lodged in a high security jail near Bihar capital Patna, officials said Bhatkal, 30, and his associate spent a sleepless night.
"Both of them hardly slept at night, talked rarely but they ate food and drank adequate water...," said a police officer.
"A team of NIA officials interrogated Bhatkal and Akhtar at the high security Bihar Military Police camp in Patna," he added.
The two were brought to Delhi by a special plane.
Bhatkal tops the Delhi Police list of 15 most wanted terrorists involved in bombings across the country and is wanted by 12 state police for terror activities that killed scores and maimed hundreds.
Considered a big catch in a fortnight after the arrest of Tunda, the investigating agency hopes to crack the entire IM terror module and find out about its funding.
But according to a leading Nepali daily Kantipur, both Bhatkal and Tunda were arrested in Kathmandu and were then handed over to Indian authorities. But Nepal's officials have denied this.
The daily claimed that Bhaktal was arrested by Nepali security agencies Wednesday from the heart of Kathmandu and handed over at the Nepal-India border at Raxual.
It said Bhaktal was caught in the Bagbazar area, taken to Birgunj, a town on Nepal's border with India, and was then handed over to the Indians.
He was then shifted to Motihari district in Bihar.
According to the report, Bhaktal, had travelled five times to Kathmandu from Dubai and Pakistan.
The daily also said Tunda was similarly nabbed while coming out of Jama Masjid at Bagbazar in Kathmandu.
Nepal home ministry spokesperson Shanker Prasad Koirala told IANS that it didn't "have any knowledge about these arrests."
Although Nepal and India are yet to revisit their bilateral extradition treaty, both sides have agreed to share intelligence to curb terrorism, extremism and criminal elements.
India and Nepal share a long and porous border and Indian criminals are known to use Nepal to transit to their countries.
Bhatkal is allegedly behind 11 major bomb attacks in Indian cities including New Delhi, Mumbai, Bangalore, Ahmedabad, Pune, Uttar Pradesh and Surat.
During an in-camera proceedings, NIA said custody of Bhatkal and his associate was needed to "unearth the larger conspiracy" behind terror attacks and to get leads to arrest 10 more absconding suspects, informed sources said.
Both the accused, who were hooded, will also to be taken to various places in and outside Delhi, the NIA said.
The defence counsel opposed the remand and claimed that the accused produced before the court was Mohmmad Ahmed and not Yasin Bhatkal.
According to informed sources, defence counsel also contended that there was no material evidence against the two accused.
NIA, seeking custody of both, also submitted that the agency has filed a charge-sheet against five other accused July 17 in a case of hatching a conspiracy to carry out terror strikes in the country and non-bailable warrants had been issued against them for Sep 30.
The charge-sheet was filed under various provisions of the Unlawful Activities Prevention Act and the IPC relating to conspiracy to commit offenses against the state.
In the charge-sheet, Bhatkal was named among the "principal conspirators" and "executors" of various terror attacks in India. The two were mentioned as absconders among 10 others in the charge-sheet.