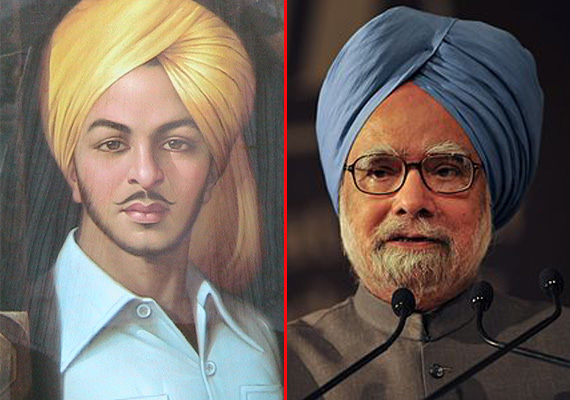 New Delhi: Even as the Home Ministry has said it has no records to show martyr status of Bhagat Singh, Prime Minister Manmohan Singh today asserted that the "fact" that late freedom fighter was a martyr is not dependent on any official records.
The Prime Minister termed the controversy on the matter as "hurtful to a nation that is indebted to the struggle and sacrifices of our freedom fighters" and made an appeal to people to desist from creating a row over it.
"That Shaheed Bhagat Singh was a martyr in the supreme national cause of independence is a fact. It is not dependent on the presumed presence or absence of official records. His role in our freedom struggle is an inalienable part of the discourse of our independence. He is a part of our proud national legacy," the Prime Minister said in a statement.
The statement came against the backdrop of the Home Ministry's reply to an RTI application, saying that it has no record to show whether Bhagat Singh, Rajguru and Sukhdev were declared martyrs or not.
"The nation will always be grateful to Shaheed Bhagat Singh and other freedom fighters who laid down their lives for a better future for India," he said.
The martyr's grandnephew Yadavendra Singh has approached the government to declare them martyrs.