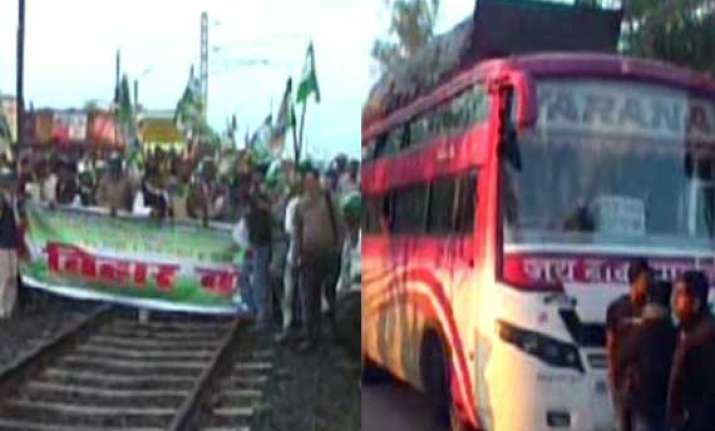 Patna/Ranchi: Two separate bandh calls given in Bihar and Jharkhand today disrupted normal life, with political activists blocking road and rail traffic, and shops remaining closed.
In Jharkhand, the bandh call for granting special status was given by All Jharkhand Students Union and Jharkhand Vikas Morcha, while in Bihar, the ruling Janata Dal(United) gave the bandh call.
AJSU workers deflated the tyres of several trucks in Jamshedpur, and damaged glasspanes of buses. They stopped traffic on NH33 by throwing burning tyres on the road.  
Tatanagar-Howrah and Tatanagar-New Delhi routes were blocked by AJSU and JVM activists. Steel Express and Purushottam Express were detained at Tatanagar station.
In Bihar, JD(U) activists stopped Patna-Hatia Express and Patna-Gaya passenger train at Jahanabad. They also stopped traffic on NH83 and NH110 routes.
In Rajgir, Nalanda, JD(U) workers stopped Shramjeevi Express and obstructed road traffic on NH31 by putting burning tyres on the road.
Similar protests were organised in all the districts of Bihar.