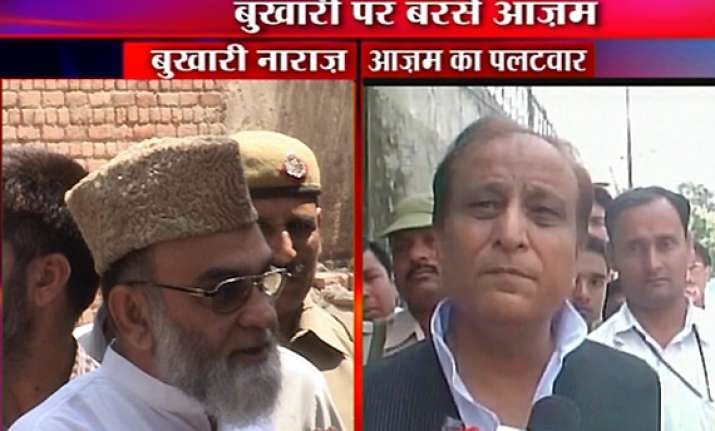 Lucknow, Apr 7: Two senior Muslim leaders Azam Khan and Delhi Shahi Imam Syed Ahmed Bukhari today lashed out at each other.
Azam Khan alleged that the Shahi Imam wanted his son-in-law Omar Khan to become a "lal batti wala" (red beacon light) minister, though he had lost the assembly elections.  
On his part, the Shahi Imam said he did not lobby for his brother Yahya to be given a Rajya Sabha ticket from the Samajwadi Party.  Munawwar Saleem was given the SP ticket.  
 Syed Ahmed Bukhari has written a letter to Samajwadi Party chief Mulayam Singh Yadav slamming Azam Khan for his "unsavoury remarks".
The Shahi Imam  ,who had earlier extended support to Samajwadi Party,  accused the party of denying  "a fair share to Muslim community '' in power, like other political parties.  
Bukhari was referring to the choice of  nominees for Rajya Sabha and State Legislative Council.
UP Minorities Affairs Minister Azam Khan advised Syed Ahmed Bukhari to do his brand of  politics in Delhi  and  stop venturing into UP.  
Azam Khan  also challenged him to get a single councillor win from Delhi's Jama Masjid area in the forthcoming MCD polls.
On his part Bukhari asked Mulayam Singh Yadav to "seriously and honestly work for the welfare of Muslims instead".
Azam Khan said Bukhari was talking of Muslim interests only for his personal gain. "Imams  like him should not  dabble in politics and seek favours for their kin.
"These peshwas of religion have failed to meet any expectation," he said.
The Shahi Imam had returned the party ticket for UP legislative council given to his son-in-law Omar Khan.
Having fallen out a few years back, Bukhari and Mulayam Yadav had patched up in the run up to the state elections. Bukhari had then appealed to Muslims in Uttar Pradesh to support the Samajwadi Party.