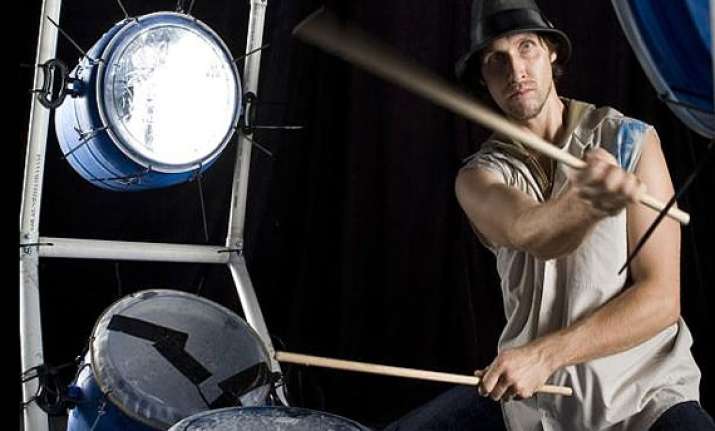 New Delhi, Jun 24: Australian percussion artist Ben Walsh, currently on a five-city tour of India, is set to perform exclusively for street children and later engage them in a master class here.
Walsh, known for his trademark high energy drumming style brings with him a brand new show "Loop Zero" blending live music with multimedia installation that he will be performing for over 100 street children at the Salaam Baalak Trust here on June 28.
The event is part of the SoundSchool a series of global Australian music events and initiatives aimed at raising money to purchase musical instruments, teaching aids and tuition for underprivileged children.
"Ben is going to perform at one of our shelters provided by Delhi Metro. It is basically a one-room shelter where children jam together with various instruments. A group of 15-20 kids come and play the musical instruments and they have formed a band too performing small jigs here and there," says Tanya Alag of the Salaam Balak Trust.
Last year four of Australia's famous rock bands - Jinja Safari, Sheppard, The Aston Schuffle and Big Scary had played at the orphanage.
"It is a great feeling for the kids who get to spend time with famous musicians and get to learn from them as well. Last time when the bands from Australia came over we had a good audience and this time the kids are enthusiastically looking forward to the event," says Tanya.
The SoundSchool at Salaam Balak Trust, started in November 2010, is an initiative which seeks to give the children an opportunity to learn, explore, and enhance their musical talent and capabilities.
Walsh, whose India lineup includes performances in Mumbai, Pune, Banglaore and Hyderabad will conduct a masterclass for the children before his gig in Delhi. 
Talking about his new piece "Loop Zero" Walsh says, "Whenever I premiere a new work there is an energy that is hard to replicate in a seasoned work. The audience will be watching me at a very new stage of exploration and that will mean I will be giving it my all".
"There is a tension, an excitement to new work that drives me to some of my best performance memories. I can't wait to play it for the Indian audiences." The musician is no stranger to the country having toured it a number of times worked with musicians here. 
He performed in Mumbai and Chennai in November 2012 as the musical director of the spectacular "Fearless Nadia".
The production marked Australia's contribution to the celebration of 100 years of Indian cinema as part of Oz Fest - one of the biggest Australian cultural festival ever staged in India form October 2012 to February 2013. 
The Australian percussionist performs upon custom-built instruments along with technological innovations designed by Machina who is also known as Kim O Sullivan.