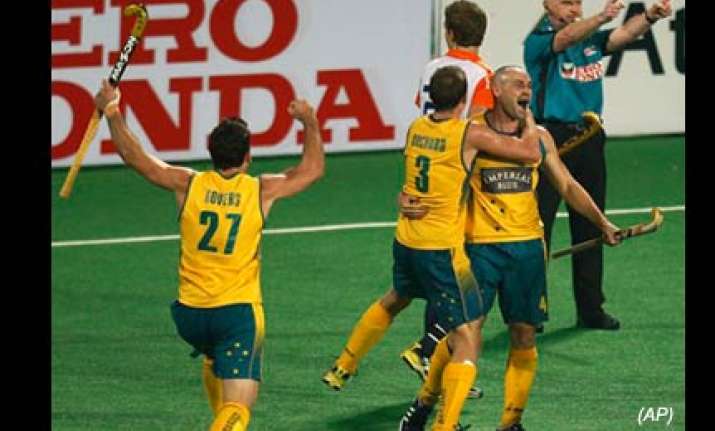 Mighty Australia continued their rampaging form in the tournament as they overcame a fighting Netherlands 2-1 in the second semifinal of the hockey World Cup in New Delhi on Thursday  to set up a re-match of last edition's title-clash against Germany. With this win, Australia have a golden chance of avenging their 3-4 defeat at the hands of the Germans in the last edition of the tournament in Monchengladbach, Germany. 
Germany had earlier defeated England 4-1 in the first semifinal to reach their third consecutive World Cup final. For Australia Luke Doerner scored his seventh penalty corner of the tournament to top the goal-scorers chart along with Taeke Taekema, who scored Holland's lone goal from a penalty stroke. 
In-form striker Glenn Turner scored the other goal for the Aussies to register his sixth goal in the megavent. Australia were clearly a better side as their opponents found it difficult to match their pace and verve. 
The match was a fast-paced encounter with Australia putting The Netherlands defense under immense pressure right from the start. The Aussies were in their attacking best throughout the game while the Dutch had to work hard to enter their opponent's Dee and were forced to play a catch-up game. PTI