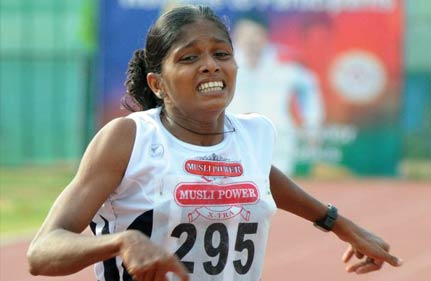 Guangzhou, Nov 25: India's Tintu Luka won the bronze medal in 800 metres event of the track and field competitions but team-mate Sinimole Paulose finished a disappointing seventh in the Asian Games here today.
Luka, a protege of former sprint champion PT Usha, clocked 2:01.36 to clinch the bronze while Paulose timed 2:06.95.
Luka led the pack right from the start, but couldn't keep pace in the last 50 metres.
Kazakhstan's Margarita Matsko won the gold medal with a timing of 2:00.29 while Vietnam's Thanh Hang Truong clocked 2:00.91 to settle for silver, at the Aoti Main Stadium.
Both the medallists recorded their personal best timing in the discipline.
Luka had qualified for the finals yesterday as the leading timer, clocking 2:03.85 to win the women's 800m heat. Paulose also qualified for the finals after finishing third in heat number one with a timing of 2:03.83.
At the Commonwealth Games in Delhi, national record holder Luka had finished sixth in women's 800m with a timing of 2:01.25s. PTI