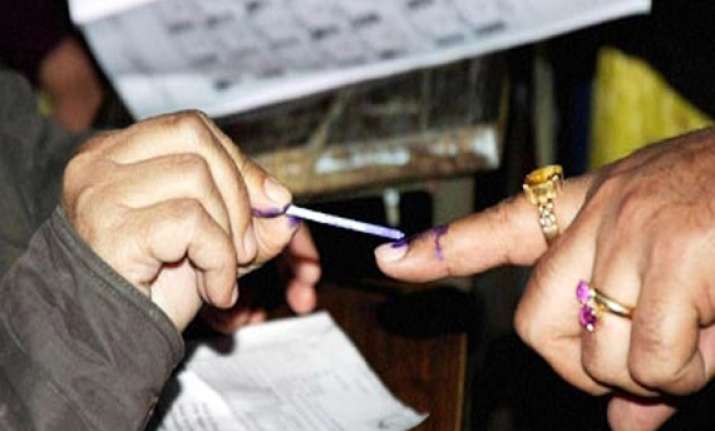 New Delhi, Apr 15: Moderate polling was witnessed in the Delhi municipal elections, the first for the trifurcated civic body, today with around 40 per cent of the 1.15 crore electorate exercising its franchise till late afternoon.
There were reports of delay in the start of voting at a few places due to malfunctioning of electronic voting machines (EVMs) while some people, including Congress Rajya Sabha member Pervez Hashmi, complained about not finding their names in the electoral rolls.
No report of any untoward incident was received till 3 PM though two persons were detained in west Delhi's Rajouri Garden area for alleged bogus voting. There was some tension near a polling station in Janakpuri after police prevented some people from gathering near it but the issue was sorted out.
"Around 40 per cent of voters have exercised their franchise till three PM," a State Election Commission official said. In the 2007 municipal polls, 42.78 per cent of the around 99 lakh voters had exercised their franchise.
Some people complained that they were not allowed inside polling booths because they did not possess the 'letter' from the State Election Commission.
The fate of 2,423 candidates would be sealed in the polling being held for 272 wards of the three civic bodies -- East, South and North—carved out of the existing Municipal Corporation of Delhi (MCD). Counting of votes will take place on Tuesday.
As many as 83,000 policemen were keeping a tight vigil across the capital where polling began at 8 AM. 77,000 officials are conducting the elections in over 11,543 voting stations.
"Lot of enthusiasm is being seen among people. The polling was progressing peacefully and there was no report of violence from any part of the city," State Election Commissioner Rakesh Mehta told PTI.
Long queues were seen at some of the polling stations like Mahipalpur and Said-ul-Ajaib as morning walkers enthusiastically went to vote. A large number of senior citizens and women were also seen queueing up at the polling booths in the morning hours.
"Every body should vote. They should select the best people, whichever party they belong to," said 91-year-old Ratilal Shah, a voter in Chandni Chowk. He claimed that he had voted in all elections since Independence.
Union Minister Ajay Maken, Delhi state Minister Kiran Waliya, Delhi Pradesh Congress Committee chief J P Agrawal, BJP state president Vijendra Gupta, and Deputy Speaker of Delhi Assembly Amrish Singh Gautam were also among those who turned up in the early hours for casting their ballot.
Prominent local leaders like Jaikrishna Sharma of the Congress and Subhash Arya of the BJP also cast their ballot.
"People are voting in large numbers. I am hundred per cent sure we will win," DPCC chief Agrawal said.
In some polling booths, malfunctioning of EVMs delayed the start of voting with Mehta saying he had reports from eight to ten places about such incidents. EVMs malfunctioned in Sarita Vihar, Narela, Mandwali, Majnu ka Tila, Sadar Bazar and Gokulpuri among other places.
"There was delay in some places. However, the polling is now in full swing in all the locations. It seems that some of the poll officials closed the voting machines leading to its sealing. In such cases, you have to call the engineers to reopen it. So there was a delay," Mehta said.
A total of 1.15 crore voters are eligible to exercise their franchise in the polls which include 42.95 lakh voters in North Delhi Corporation, 42.67 lakh voters in South Corporation and 27.16 lakh voters in East Corporation.
There are 104 each wards in South and North Corporations and 64 in the East, of which 138 seats are reserved for women.
South has the highest number of 904 candidates followed by North (885) and East (634).