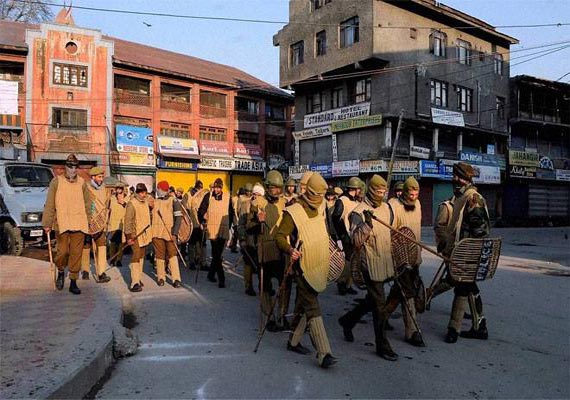 Srinagar, Jul 25: Army was  deployed in curfew-bound areas hit by sectarian violence in Budgam district of central Kashmir  yesterday to help the administration restore law and order, officials said.
"We have deployed several columns on the request of civil administration in parts of Budgam district to assist police to restore law and order," Army spokesman in Shariefabad headquarters of Kilo-Force, Colonel V K Sharma told PTI.
An Army column has about 50-60 personnel. He said the situation has remained under control since the deployment of Army.
Authorities imposed curfew in some parts of Budgam district following violence, including incidents of arson on Tuesday, the officials said.
They, however, refused to give details about the number of houses torched by the rival sects.
Sources said at least a dozen houses were set on fire, resulting in extensive damage to the structures, but there was no report of any casualty.
Extra security forces were rushed to the affected areas last night to maintain peace as senior officials of police and state administration requested people to maintain calm.
Announcements were made through public address systems asking people not to pay heed to rumours that were being spread by people with vested interests.
Violence broke out in Sabdan, Galwanpora and Reshipora villages of Budgam on Friday night following dispute between two sects over construction of a village road.
Separatists as well as mainstream parties, including ruling National Conference and opposition PDP, condemned the violence and appealed people to maintain calm and "foil the nefarious designs of vested elements bent on creating a wedge between the two communities."
Separatist groups have blamed intelligence agencies for fuelling the violence to divert attention from alleged human rights violations like the Gool firing incident.