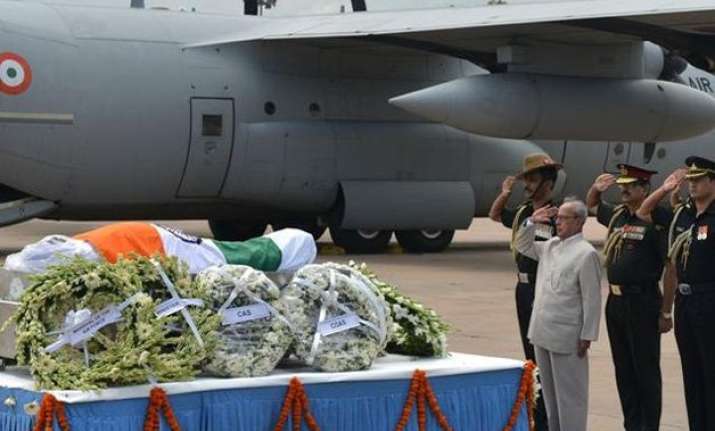 Rameswaram: Former president APJ Abdul Kalam, who passed away in Shillong on Monday, will be given a state funeral with full military honours at his birthplace Rameswaram in Tamil Nadu at 11 am today.
Large number of people from different walks of life paid their last respects to the former president as his body was brought to his hometown on Wednesday evening.
The mortal remains of Kalam were brought to Mandapam from Madurai in a helicopter after being flown there from Delhi in a special Indian Air Force (IAF) aircraft. Union Parliamentary Affairs Minister M Venkaiah Naidu and Defence Minister Manohar Parrikar accompanied the casket.
The body of Kalam, wrapped in Tri-colour, also a distinguished scientist and a teacher and popularly known as People's President' and Missile Man, was kept at 'House of Kalam' - the ancestral house of the former President.
The body was later kept in the open ground in front of the bus stand for the public to pay homage.
Prime Minister Narendra Modi will arrive here to attend the funeral of Kalam.
Congress vice president Rahul Gandhi, Karnataka Chief Minister Siddaramaiah and several other leaders would also attend Kalam's last rites.
Born in Rameswaram on October 15, 1931, Kalam, as a boy, hawked newspapers to supplement his family income. His father owned a boat, and his mother constantly struggled to keep the family sufficiently fed and clothed. His sister pawned jewellery with a moneylender so that the studious Kalam could have Rs 600 when he decided to leave Rameswaram to join the Madras Institute of Technology.
Meanwhile, security has been tightened in Rameswaram in view of the large number of people, including ministers and others, who are expected to attend Kalam's last rites.
Kalam died on Monday evening after collapsing while delivering a lecture at IIM, Shillong.