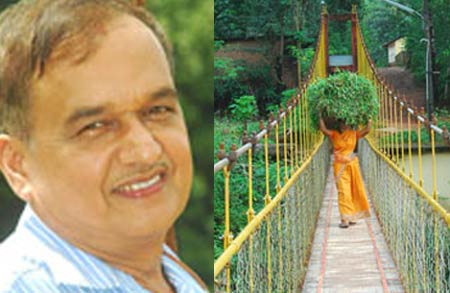 Noted Bhajan singer Anup Jalota's bhajan 'Ramchandra Sukh Dayee' inspired  Girish Bharadwaj, popularly known as 'Bridge Man' in Karnataka to build not only one, but 96 sturdy footbtridges that have become boons for the poor people living in rural areas, reports Bangalore Mirror.
Bharadwaj built a suspension bridge over River Payaswini near Aletty village in Sullia taluk of Karnataka. It connects the villagers to a school, hospital and jobs on
the other side. But when the water level rises to dangerous levels, isolation reigns and the villagers are cut off from life's basic necessities.
But all that has changed in the village, thanks to Bharadwaj. He brought in a revolution of sorts by applying the technology used for San Francisco's Golden Gate Bridge and New York's Brooklyn Bridge. The result was affordable, reliable suspension footbridges that are now changing village economies and social prospects.
It all started in Bharadwaj's own backyard. "In 1989, my own village people who dwell on the other side of River Payaswini, requested me to build a hanging bridge for them.
I didn't know enough about bridges but could not turn down their request. I designed a simple hanging bridge. They collected contributions from villagers and I encouraged them with free technical guidance and fabrication work. The peasants worked on the earthwork, construction of towers and anchors under my guidance. The first bridge was ready in August 1989," he told Bangalore Mirror.
Bharadwaj thought that was a one-off endeavour. But after two years, government officials and elected members started visiting the bridge frequently. Word about the
simple, cost-effective bridge spread. More so because it could be built quickly.
"From 1993 onwards, I was invited to build bridges all over Karnataka, the northern districts of Kerala and two in Andhra Pradesh. Now we've built over 96 bridges," he said.
Now 60, Bharadwaj recollects how difficult the journey has been. He was home-schooled till Class IV since school was 5 km away and could be reached only through the
jungle. He joined school when he was ready for Class V in 1959.
"After completing Pre-University, I worked as a farmer and joined engineering in 1968 with great difficulty. I then returned to farming for a year," he said.
It was a struggle but he managed to open a small general engineering workshop in Sullia, repairing farm machinery. Later, he started a fabrication plant, Gobar Gas
Plants. "There were times when I had difficulty paying salaries to employees. I then started automobile repairs but gave that up too," he said. But things improved
when the government rubber factory came to Sullia. Bharadwaj started getting work – erection, repairs etc – and later, he also started getting roof trusses and special jobs.
And then, he built the bridge for his village people."People started expressing their gratitude when we built the first bridge. As word spread, we went to other villages and constructed bridges but some did not pay for
the material and labour cost and I had trouble with finances. I was about to give up the bridge work but one day, I was listening to some bhajans by Anup Jalota and was moved when I heard Ramachandra Sukh Dayee."
"The bhajan was about a boatman telling Lord Ram that his profession and the Lord's were the same. The only difference was that Guha was the boatman for the river while Ram was the boatman for Bhavasagar. He tells Him that he did not expect any returns for his work, as people of the same profession do not pay each other.
"I then decided that I should not expect any profit. I motivated my people again, developed more infrastructure, employed more people. and at the same time, requests for the bridges also increased," he said.
Most bridges are built purely through people's participation. When Bharadwaj gets a request, he goes to the site, takes measurements and prepares the designs and drawings. The villagers take it to the elected members and departments and get the work sanctioned.
Bharadwaj plans to continue his good work till 2020, when he will be 70 years old. He also plans to better it, making bridges maintenance-free as there is the problem of rusting now.There are also other bridges Bharadwaj wants to build – he wants to educate children with real values based on our ancient traditions.
Mini golden gate bridges
Girish Bharadwaj uses the technology that has been used for world-famous suspension footbridges (SFB) like San Francisco's Golden Gate Bridge and New York's Brooklyn Bridge.
Bharadwaj says, "I have simplified the designs to meet our village conditions and by using indigenous materials and skills. The SFB consists of two sets of towers
(pylons), two sets of anchorages, and two high-tensile strength steel wire ropes. The bridge is connected to cables through suspenders.
Generally, SFBs do not need foundations in water. There are two sets of supports and two anchorages on the banks of the river. When socio-economic development follows and people need to build a bigger bridge, the existing one can be shifted, bringing down costs by 70 per cent.