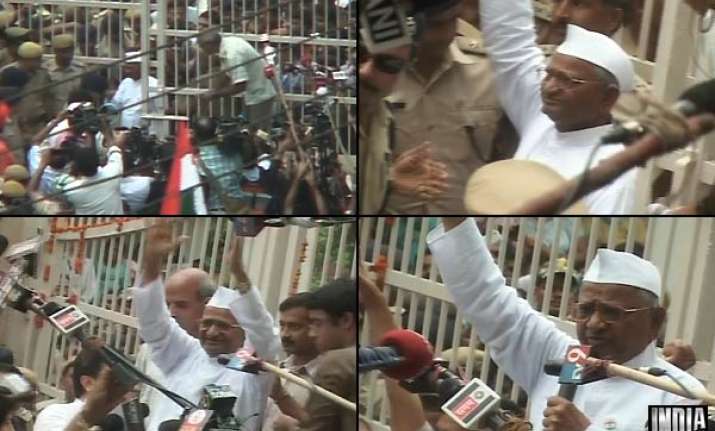 New Delhi, Aug 19: An invigorated, though weak and tired looking, Anna Hazare on Friday forenoon walked out of Tihar Jail after 68 hours to declare that the "flame of revolution" lit on August 16 must not be extinguished so long as a corruption-free India does not come into existence. 

Cheered by a sea of humanity outside the jail premises, the 73-year-old anti-corruption crusader walked slowly out of the main gate, and rose to a small podium to shout two slogans : Bharat Mata Ki Jai and Inquilab Zindabad. The huge crowd responded lustily to his slogans. 

Hazare told the crowd of supporters that the fight for India's independence began on August 9, 1942, and the country attained freedom on August 15, 1947.

"And now, the fight for "second independence" has begun on August 16. We have lighted the flame for second independence. Whether I am alive or not, this flame must not extinguish", said the Gandhian amidst loud cheers from his supporters.

The fast has made me lose my weight, but my energy level has increased seeing your support, said Hazare.

The Gandhian cautioned his supporters not to inconvenience common people while staging their protests, nor damage public property.

As Hazare walked out of the main gate, a few floor petals were thrown at him. With folded hands, the Gandhian accepted the applause of his supporters and then shouted the slogan Bharat Mata Ki Jai.

After a brief speech, the Gandhian swamped by supporters walked up to the mini-truck decorated as a rath and accepted the ovation of his supporters.

The procession then proceeded towards Mayapuri amidst downpour. Hazare will go to Rajghat and from there to India Gate to offer prayers, and later he would visit Ramlila Maidan, where another huge crowd was eagerly awaiting for his arrival.
PTI adds: Hazare came out of Tihar Jail today to launch a fortnight-long protest demanding a strong Lokpal bill declaring that the fight against graft will continue whether he was "alive or not".

Looking fit on his fourth day of fast, the 73-year old Gandhian came out of the jail premises and made a brief address to the waiting supporters that the "second freedom struggle" has started.

"We got freedom in 1947. Now the second freedom struggle has begun on August 16. A revolution has started. The fight against corruption will continue whether I am alive or not," he said as the hundreds of supporters waiting for him since early morning cheered and clapped.

Escorted by police officials, Hazare came out and mounted a small podium erected just outside one of the gates of the prison that was his home for over 67 hours. He had refused to come out of the jail on Tuesday despite government ordering his unconditional release after his arrest in the morning to foil his indefinite hunger strike.

In the short speech, he declared that his campaign was aimed at making the country corruption-free. Before getting on to a mini-truck heading a procession for a short distance, he appealed to his supporters not to indulge in violence or damage public property.

Flanked by his aides Arvind Kejriwal and Suresh Pathare, the Gandhian also invited them to join his protest that he would begin from the historic Ramlila grounds.

Greeted by rains, the procession made a slow progress as Anna waved to his supporters on his way towards Rajghat where he will pay obeisance to Mahatma Gandhi before proceeding to Amar Jawan Jyoti at the India Gate. From there he will go to Ramlila ground, the protest venue.
Hazare supporters accompanied the procession waving the tri-colour while he accepted greetings from people gathered on either side of the road in West Delhi.

The improvised vehicle had a huge umbrella to protect Hazare and his close aides from the pounding rain. Apart from walking along with Hazare's vehicle, the supporters followed him on bikes, jeeps and cars.

The procession affected vehicular traffic in and around the Tihar prison premises including in Janakpuri, Mayapuri and Hari Nagar in West Delhi.

The tireless Hazare was greeted by the supporters with garlands and bouquets at various intersections en-route his procession which was marked by chants of 'Anna' and "Vande Mataram".

Children, housewives and others were seen standing on their balconies and rooftops to have a glimpse of Hazare and the procession.

Supporters also thronged other three venues -- Rajghat, India Gate and Ramlila Maidan -- where the Gandhian will visit.

Protesters expressed happiness over the 73-year-old Gandhian's decision to come out from the prison complex following rounds of negotiations with the police and authorities to decide on agitation venue to undertake hunger strike.

"I have come here late last night to participate in this mass movement. It is our victory and we will remove corruption from the country with Annaji's help," said Ashok Marwah, a Dwarka resident who was among thousands others anxiously waiting for the Hazare's release.