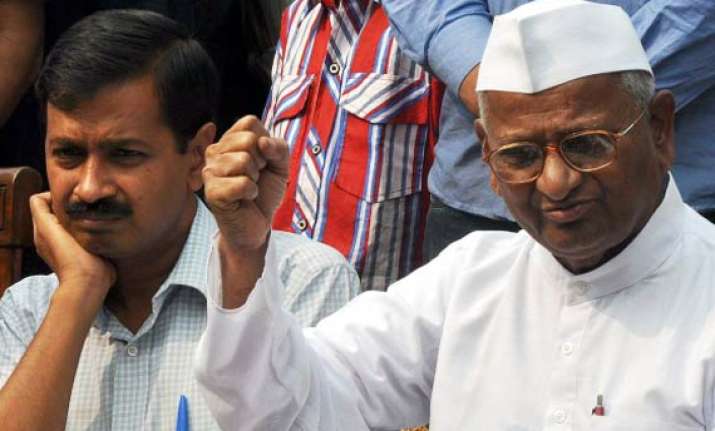 New Delhi, Dec 14: Anna Hazare may shift his proposed fast later this month on Lokpal Bill from Delhi to Mumbai to avoid harsh winter conditions that could prevail in the capital.

This was decided by Team Anna's core committee which met here today to to chalk out its future plans, including the proposed December 27 agitation, if a strong Lokpal Bill is not passed in the ongoing Winter Session of Parliament. 

"Depending on what kind of Lokpal law is made in Parliament, Anna will fast on December 27. Whatever it is, there will be a people's congregation on that day. It will be a fast or celebration depending on the outcome of Parliament.  Keeping in mind the weather conditions in Delhi during that time, we have also applied for Mumbai's Azad Maidan. If weather would be fine in Delhi on that day, then the protest or celebrations will happen in Delhi," Kejriwal said. 

The core committee also decided that its members will be in Parliament's Visitors' Gallery on the day when Lokpal bill will be introduced in the House, he told reporters. 

Raising his pitch on the issue, Hazare found fault with government for bringing a separate Citizens' Charter bill saying it was against the assurance given by Parliament to him and urged Trinamool Congress chief Mamata Banerjee to pressurise UPA on Lokpal issue as she did on FDI in retail. 

"Citizens' Charter should not be brought as a separate law. Now that Parliament has made its decision why should a second thought be given. This is not right," Hazare, who sat on a fast in Jantar Mantar last Sunday protesting against Parliamentary Standing Committee report on Lokpal bill, said. 

Hazare also requested "behen" (sister) Mamata Banerjee to "put a good word forward" for Lokpal so that corruption is eradicated to some extent as her decision on FDI protected many small traders.

On Mamata, Hazare said "she has done a wonderful thing in case of FDI for the country. Her decision protected many small traders. Our request is that the country which is facing such huge threat of corruption should get Lokpal that may eradicate 60-70 per cent of the menace if not 100 per cent. 

"Our request to 'behen' Mamata is that you should also put a good word forward for Lokpal so that corruption is eradicated to some extent," he said.

Demanding that Citizens' Charter should not be brought as a separate law, Hazare said, with Parliament passing a resolution earlier, why should a second thought be given. 

"This is not right...Yesterday there was a Cabinet meeting to discuss Lokpal. During the meeting the Cabinet discussed making Citizens' Charter a separate law which I think is completely wrong.

"It is wrong because when I was fasting at Ramlila Ground, the Prime Minister had written a letter asking me to end the fast assuring that the three crucial points— inclusion of Citizens' Charter, lower bureaucracy and state Lokayuktas—will be part of the Bill and Parliament agreed to it," he said.

Hazare said the decision to make a separate law was not right after Parliament taking a decision on the issue.

"This means Parliament was not trusted. It was Parliament that voted for the resolution and then they say Anna has no trust in Parliament. It is they who do not trust Parliament."

Team Anna also appeared disatisfied with government's plan on CBI and supported the agency, which has expressed unhappiness over various issues related to Lokpal, saying the recommendations of the Parliamentary Standing Committee were dangerous and should be rejected.

"We support CBI's protest and believe that the Standing Committee's report is dangerous and should be rejected," Team Anna member Arvind Kejriwal told reporters here.  He said the recommendations, if implemented, will cripple the functioning of CBI.

"Preliminary enquiry is being made compulsory in all cases which may warn the corrupt that he is under CBI radar and allow him to protect himself before a raid takes place. We support CBI's argument and they are rightly protesting the recommendations," Kejriwal said.

He accused the government of using Hazare's campaign to dilute the role of CBI.

His comments came as CBI wrote a letter to Department of Personnel and Training, saying the proposed move to make preliminary enquiry by Lokpal mandatory before giving cases to CBI will "severely impair" effectiveness of the agency in anti-corruption cases as it would lose the "surprise element" to carry out search operations, sources in the agency said. 

According to the letter, the agency at present gathers information from various sources and plans and executes a search operation to collect documents and evidence but if the preliminary enquiry by Lokpal is made compulsory and if the suggestions would be implemented, the agency will lose the surprise element to carry out such operations. 

The agency also cited lack of enthusiasm about the recommendations of the Parliamentary Standing Committee on Lokpal Bill that all complaints of corruption cases which are in the nature other than trap cases shall first be scrutinised by Lokpal by holding a PE.