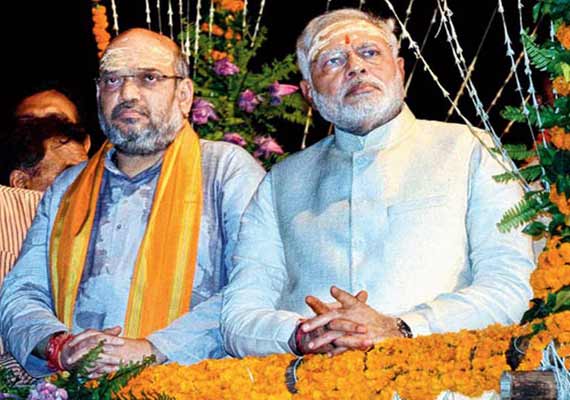 Varanasi: Prime Minister Narendra Modi's Parliamentary office in the temple town has been finalised and will be inaugurated on August 20 by BJP chief Amit Shah, a party spokesperson here said.
"Parliamentary office of Prime Minister Narendra Modi, who is also a Member of Parliament from this temple town, has been finalised and will open up in 'Ram-Bhavan' in Ravindrapuri area of the city," said Sanjay Bhardwaj, Media, In-charge of Modi's constituency (Varanasi) as well as Eastern UP (Purvanchal region).
'Ram Bhavan' will be inaugurated by Shah on August 20, who will visit the city for the first time as a president of the party, Bhardwaj said.
"A yellowish colour three-storeyed building, will house Prime Minster's 'public relation office' or his 'Parliamentary office', which will cater to the needs of people of this city as well as those of the Purvanchal region," he said.
 Bhardwaj claimed that "This office will not just deal with solving problems of people of Varanasi but will even take care of people approaching here from whole the Purvanchal region," he said.
"A grand welcome will be given to Shah on his visit by BJP workers who will assemble in large numbers from all districts of the Purvanchal region," Bhardwaj said.