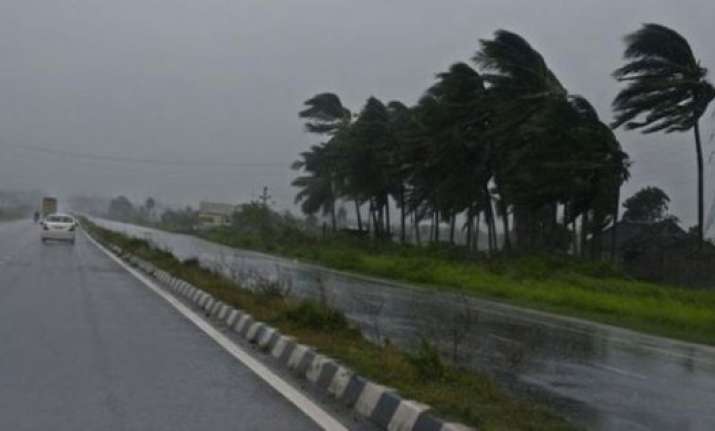 Berhampur (Odisha): While preparing to face cyclone 'Hudhud' which will make the landfall tomorrow, the people of Ganjam district find it difficult to erase the memory of cyclone Phailin that hit them hard exactly the same day, October 12.
For the people of this district, located in south Odisha, October 12 means a 'black night'.
"The cyclone Phailin has robbed our family," 20-year-old Asha said while recalling how her father Rabindra Kothia had died that night last year.
Kothia, along with his family members, had taken shelter at a place near his house at Khodasingi locality.  He did not return as the wall of the house collapsed on him, said Asha, with tears rolling down her cheeks.  "Our heart-beat runs fast when we hear the word cyclone," said Satish, Kothia's 18-year-old son who was forced to take up a job at a garage after the death of the sole bread winner of the family.
"As we lost our father due to Phailin, we moved to a safe place voluntarily before landfall of Hudhud," he said.  Sunita of Bijipur area in the town lit up a lamp in front of her daughter Anita's photo when she heard that Hudhud is approaching.
Her 9-year-old daughter died in Phailin on October 12 last year.
"We had taken shelter in a neighboring house on that night. She died on the spot when a brick fell on her head," said her father Gobaradhan Behera.
"We pray to God to save us from another cyclone," said Sunita. "We have got compensation from the government, but we can't get back our daughter," she said.
At least 16 persons had died and around 50 had sustained severe injuries in the cyclone Phailin in Ganjam district.  "When we heard about Hudhud, we started preparation to face the cyclone once again," said 50-year-old Panda who lives in a slum here.