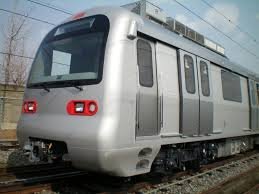 London: A former managing director of Alstom Transport India will face two counts of corruption in court here on Monday for allegedly bribing Delhi Metro officials.
Robert Hallett had been named as the first person to face charges in connection with the Serious Fraud Office's (SFO) bribery investigation into the UK subsidiary of the French train and turbine giant.
According to court documents seen by the Financial Times newspaper, the SFO accuses Hallett of paying the Delhi Metro Rail Corporation 3.1 million euros and Rs 19.9 million (257,000 euros) "as inducements or rewards for showing favour to the Alstom group in relation to the award or performance of a contract".
However, the individuals at Delhi Metro have not been named in the document.
The 51-year-old former senior manager of Alstom UK will appear before Westminster Magistrate's Court on Monday when a preliminary hearing date will be fixed.
Hallett is one of several people, including French and Swiss nationals, to have received warning from the SFO earlier this year that it intended to charge them as a result of the agency's five-year probe into Alstom's dealings, in which Indian authorities have reportedly cooperated.
 
Alstom Network UK already faces six counts of conspiracy and corruption brought by the SFO.
The agency accuses the industrial conglomerate of paying bribes to officials totalling more than 6 million euros to secure transport contracts in New Delhi, Tunis and Warsaw via sham consultancy agreements.
 
A case management hearing will now take place at Southwark Crown Court on January 28, 2015, and the deadline for evidence to be submitted to the court is November 18.
 
The SFO investigation commenced as a result of information provided by the Office of the Attorney General in Switzerland concerning the Alstom Group, in particular Alstom Network UK Limited.
 
The UK's financial watchdog had filed charges back in July.
 
The alleged agreements were struck by Alstom Network UK, certain directors and others with Indo European Ventures and Global King Technology in India, SagaxEngineering Limited and Kavan BV in Poland and Construction et Gestion NEVCO in Tunisia, according to SFO court filings.
 
France-based Alstom group stressed that the charges related to past misconduct.
 
"The company has been in communication with the SFO and seeks no more than a fair and appropriate resolution of the allegations made," a spokesperson said.
 
If convicted, Alstom Network UK faces fines or a ban from competing for public contracts in the European Union.