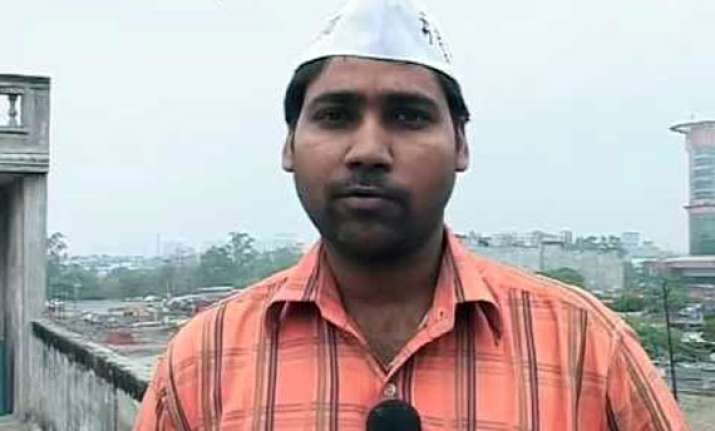 New Delhi: A case of cheating was registered against Kondli MLA Manoj Kumar on Monday at Ashok Nagar police station in East Delhi.
Vinod Kumar alleged in his complaint to the police that Manoj used to work as a property dealer before venturing into politics.
Kumar allegedly produced fake proprietorship documents of a plot in Kondli area of East Delhi and accepted a sum of Rs 6 lakhs from one Vijay Kumar.
The AAP leader allegedly made the deal on the plot by showing it as his own, which now is being said to be owned by one ML Verma.
Manoj Kumar, 35, is currently the incumbent from Kondli assembly constituency in east Delhi. Kumar before joining AAP was a property dealer in the same area.
Vijay Kumar, in a statement to the police said that in December he had purchased a plot in Kondli and apparently paid some advance in return of which he received original proprietorship documents.
The buyer was supposed to take possession of the land upon full payment of Rs 21 lakh however Manoj allegedly kept on bypassing the finalisation of the deal citing that he is busy, first with the assembly elections and then the recently concluded general elections.
Police officials revealed that they have filed a case under section 415 (cheating) and 464 (forgery) of the Indian Penal code.
 The case has been registered in the New Ashok Nagar police station and the matter is being investigated. However, no arrests have been made so far.
"We have sent the documents for verification and are investigating the case. We also have to confirm wether there was a transaction between the two parties. We will take action soon," said an investigating official.
Manoj Kumar while responding on the accusations said, "I have not been contacted by the police yet. In fact I have no idea which plot they are talking about. I have only one plot in Kondli which is well under my possession."
Kumar also said that he had left the property dealing business almost two years ago and alleged that some political parties are bringing up a false case to defame the AAP. "I am ready for any kind of investigation. Let them (police) provide evidence that I have wronged someone," said Kumar.
In the 2013 assembly election held in December last year, Kumar had won the Kondli seat bagging 36,863 votes.