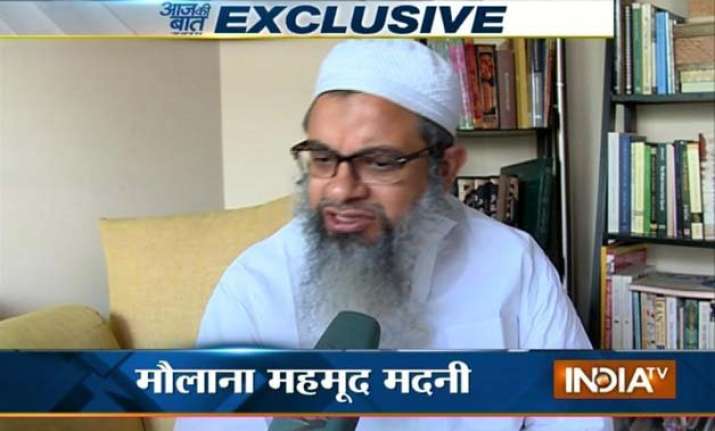 New Delhi: Jamiat Ulema-e-Hind general secretary Maulana Mahmood Madani has opposed the demand for banning Rashtriya Swayamsevak Sangh (RSS) in the country. He said that RSS should change its views towards Muslims but banning it is not a solution.
While talking to India TV exclusively, Mahmood Madani said, "I do not want to say anything clearly on this issue because it is an old perceptive issue. We do not agree with RSS but they should change their views because Muslims constitute second largest community in the country and it would be better if they work together.
Maulana Mahmood Madani said that RSS had been banned in the past but it did not yield anything. He said that banning it is not a solution.  
The demand for the ban was made by Maulana Arshad Madani, president of another faction of JUH. He said, "The way the workers of RSS have been targeting religious minorities in the country, it is harmful to the unity and brotherhood of the country. Our opinion is that if people are discriminated on communal lines, it will harm the unity and integrity of the nation. The country has already been divided once because of communalism and if this continues it will happen again."
Mahmood Madani appreciated Prime Minister Narendra Modi's approach but he says he should speak against the people who are trying to divide the country on religious lines.
Mahmood Madani seems to agree with Maulana Arshad on a few notes. He said, "What has happened in the last one year, Arshad Madani's views seem to be correct. But I am a positive person and I believe that if Modi wants to serve the country for long, he should speak up."
He warned Modi that if he fails to bring people together, he will not succeed again in 2019.