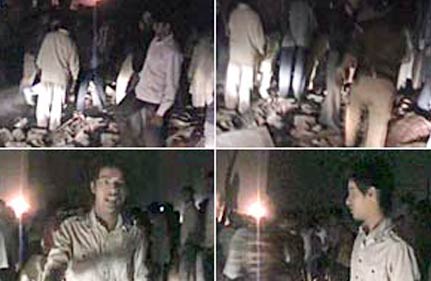 New Delhi, Nov 16: The collapse of a four-storey building in a congested locality in East Delhi in which 66 people were killed fuelled a blame game today between the Delhi Government and the MCD on what led to the worst such accident in recent times here.
A case of culpable homicide not amounting to murder has been registered against the owner of the building Amrit Singh, who is absconding and has not been traced yet, police said.
As rescue workers scrambled to find survivors in tonnes of debris strewn around in a congested locality, family members ran from pillar to post trying to find their near and dear ones. The death toll in the collapse which also left 74 injured rose to 66 after 24 bodies were retrieved today.


"66 people have died and about 73 are injured and admitted to various hospitals of the capital with a major chunk being at the LNJP," police and hospital officials said.
In May 2008, 17 construction workers were killed when a wall collapsed at a construction site in Delhi.
41 bodies have been taken to Lok Nayak Jai Prakash Narayan Hospital (LNJP), 16 to Lal Bahadur Shastri Hospital, six to Hedgewar Hospital and three to Guru Teg Bahadur Hospital, officials said. Of the 66 dead, 27 were females, they said, adding 16 chidlren were among the victims.
The Union Ministry of Home Affairs has sought a report from the Municipal Corporation of Delhi(MCD) on the mishap.




Over 60 families, mostly labourers from West Bengal, were living in the cramped quarters of the 15-year-old building, where an illegal fifth floor was under construction. The entire structure came crashing down around 8.15 PM yesterday at Lalita Park in Laxmi Nagar.
Around 30-40 people have been rescued since last night and it is difficult to say whether more people are trapped inside, police and fire officials said.
A blame-game has erupted between Delhi Government and MCD with Chief Minister Sheila Dikshit directly putting the onus on the civic body for the building collapse and the BJP-ruled agency denying the charge.
Holding MCD responsible for the incident, Dikshit said the the builder should not have been allowed to construct floors beyond permissible level and the quality of the building should also have been examined.





MCD Standing Committee Chairman and BJP leader Yogender Chandolia, however, sought to blame the Delhi government's Flood and Irrigation Department over accumulation of water at the basement of the building that collapsed.
Most of the victims remained unidentified but belonged to migrant Bihari and Bengali labourer families.
The Delhi Government announced an ex-gratia of Rs two lakh each to the families of those killed and Rs one lakh to the injured.
A magisterial inquiry has already been ordered into the incident.
Delhi government directed MCd to urgently make a survey of all buildings in Laxmi Nagar area to determine their structural deficiencies, if any.
At a high-level meeting attended by top officials of MCD, Irrigation and Flood Control Department, Delhi Development Authority, Urban Development Department and Delhi Jal Board, the civic body was told to begin the survey today and based on it take necessary action, including evacuation of people, so that such incidents do not recur.
The survey would be carried out within a radius of 300 metres from Pushta Road where the building collapsed last night.
Delhi Urban Development Minister A K Walia said authorities are looking into how the building was allowed to come up and prima facie it seems that proximity to the river Yamuna and water-logging were the reasons for the collapse.
The building had been rented out to migrant labourers and some factories and workshops were being illegally run from there.
The foundation of the building is suspected to have weakened following heavy rains during monsoon when Yamuna river had flooded the area. The basement of the building was waterlogged for the last two months, nearby residents said.
Debri clearance operations were in full swing with rescue workers from National Disaster Response Force (NDRF), fire department, police, civil defence and locals working together remove tons of concrete from the spot and find trapped people.
"The debris clearance operation is likely to be completed only by tomorrow morning. We have to remove every bit of debris and see whether there are any bodies trapped in the basement," R C Sharma, Director of Delhi Fire Services, said.
A 250-member disaster management team has been deployed to help in rescue effort. PTI