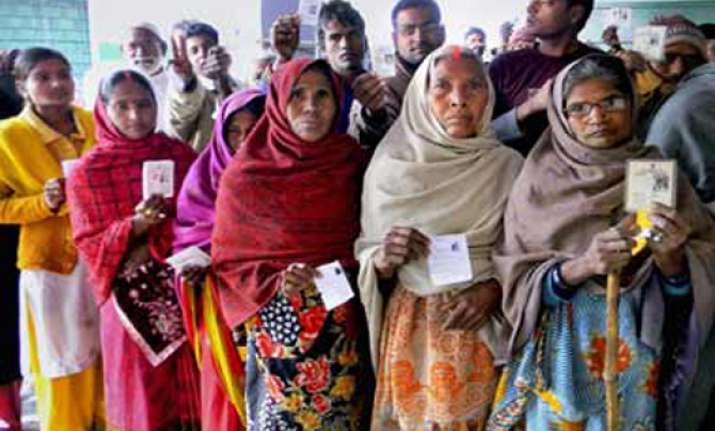 Lucknow, Feb 23: Brisk polling was recorded in the fifth phase of UP assembly elections spread over 49 seats with  59 per cent of the over 1.56 crore voters exercising their franchise, amidst reports of poll boycott and minor scuffles in some areas.  

Polling started at 7 AM amidst tight security arrangements and 50.16 per cent votes were cast till 3 PM, Chief Electoral Officer of UP Umesh Sinha said here.

In 2007 assembly elections, total 47.57 per cent votes were cast in this phase.

Maximum 55 per cent votes were polled in Firozabad.

Among other districts, Mahoba and Hamirpur saw 49 per cent voter turnout, Jalaun 51.75 per cent, Etawah 52 and Auraiya 50 per cent.

There were reports of voters boycotting the poll process in Etah, Lalitpur, Jalaun and Hamirpur over development issues.

There were also reports of minor scuffles between election officials and voters in Kanpur.

The Cantt seat area saw some tension as the local Congress candidate alleged that 75 per cent of voters' names were missing from the voter list despite their having voter-ID cards.

Angry voters created a ruckus but heavy police presence prevented the situation from worsening.

Senior officials said the problem arose due to a minor error in the list which was changed after delimitation and the problem was resolved peacefully with the voters.

Another part of Cantt seat also witnessed similar confusion in the voter list and slogan-shouting among rival party supporters.

In this phase, fate of 829 candidates, including that of Leader of Opposition in the state assembly Shivpal Singh Yadav, BJP leader Uma Bharati and former UP chief minister Kalyan Singh would be decided.

Polling is underway in Firozabad, Kanshiram Nagar, Etah, Mainpuri, Etawah, Auraiya, Ramabainagar, Kanpur, Jalaun, Jhansi, Lalitpur, Hamirpur and Mahoba districts.

The fifth phase covers assembly seats in backward Bundelkhand region, bastions of SP and former chief minister Kalyan Singh.

In this phase, Shivpal Singh Yadav is seeking re-election from Jaswantnagar seat in Etawah district.

Fate of firebrand leader Uma Bharati, who is making her debut in UP electoral politics, would be put to test from Charkhari seat in Mahoba district.

Charisma and political strength of former UP chief minister Kalyan Singh would also be tested in this phase when elections would be held in his stronghold of Etah.