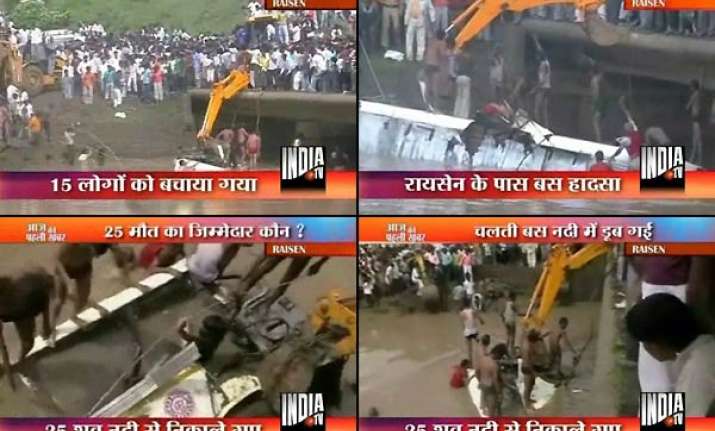 Raisen (MP), Aug 2 : Thirty passengers were missing and 25 bodies were recovered by Monday night as a private bus fell into the swollen Barna river off a bridge in Raisen district.

The bus belonging to Maa Gayatri Travels, carrying nearly 70 passengers, fell off the bridge about 100 km away from here when one of its tyres burst and the driver lost control.

Nearly 30 passengers are feared to have been swept away, while divers rescued 15 others.

The bus was on its way to Jabalpur from Bhopal. It waspulled out of the river in two pieces with the help of a crane, police added.

Twenty-one persons were admitted to the Bareily hospital while six were later sent to Bhopal as their condition was serious.

The driver is missing, while the conductor, Laxmi Prasad, sustained injuries as he jumped out of the bus, and is undergoing treatment at the hospital.

The Bhopal-based owner of the bus is absconding, police said.

Army divers from Bhopal were deployed to carry out the search in the river.

Madhya Pradesh Chief Minister Shivraj Singh Chouhan has announced ex-gratia of Rs 50,000 each for the families of the deceased, Rs 10,000 for the seriously injured and Rs 5,000 for those who have suffered minor injuries.

Nine of the deceased have been identified so far: Raja (16), Bulabai (50), Mahima (08), Sayed Afsar Ali (35), Karodi (30), Krishna Kumar (45), Rahul (22), Rajesh (25) and Radhelal (55).