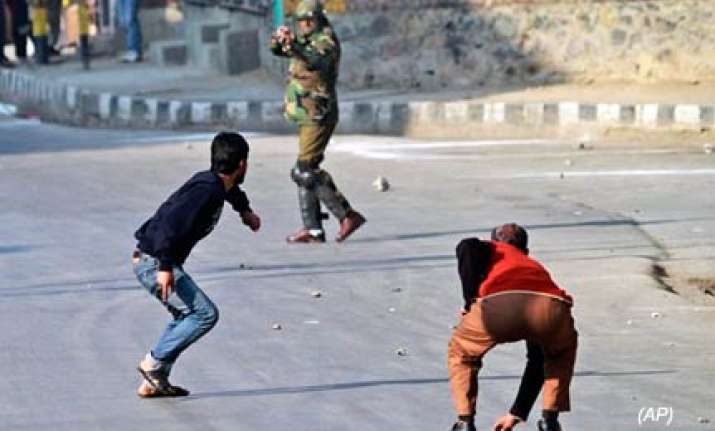 Srinagar, Nov 19: At least three persons, including a policeman, were injured in clashes between stone pelting protestors and security forces at different places in Kashmir Valley today, official sources said.
The clashes took place at several places in Srinagar, Baramulla and Pulwama districts shortly after Friday prayers, the sources said.
They said police and paramilitary forces exercised maximum restraint while chasing away the stone-pelting protestors.
Thousands of people offered Friday prayers at the historic Jamia Masjid in downtown Srinagar but the chairman of the moderate faction of Hurriyat Conference Mirwaiz Umer Farooq could not attend the congregation as he remained under "house arrest", they said.
The supporters of the Hurriyat Chairman shouted slogans after the prayers in support of the demand for lifting of curbs on his movement but later dispersed peacefully.
However, a section of the protestors indulged in stone pelting at nearby Naidkadal, prompting police and paramilitary forces to use force to disperse them and restore law and order, the sources said.
A policeman was injured when groups of youth pelted stones at security personnel deployed at Magarmal crossing and Tagore hall in uptown city late in the evening, they said.
They said the protestors dispersed when the security forces used canes.
Some youths also attempted to disrupt peace at Muran chowk and Rajpora chowk in Pulwama district town of south Kashmir by resorting to heavy stone pelting, the sources said, adding security forces used minimum force and chased them away. A protestor received minor injury in the process.
Similar incidents were reported from Baramulla district of north Kashmir and Sopore town.
One person was injured in the police action and hospitalised, the sources said.
The law and order situation in rest of the Valley remained peaceful, they said. PTI