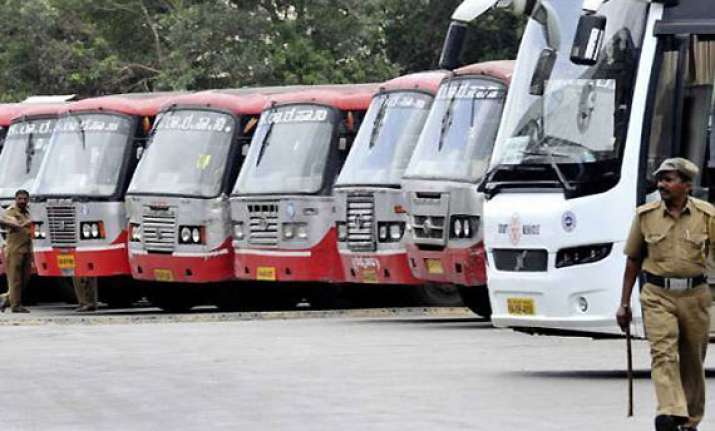 Bangalore, Sept 14: Acting tough, Karnataka Government today sacked 3,000 trainees for taking part in the strike by employees of state-run transport corporations which entered the second day throwing normal life out of gear.
The Government has dismissed from service about 3,000 trainees for participating in the strike, called to press for wage hike, in violation of service rules and initiated the process to recruit an equal number, who had already passed the tests and awaiting appointment, Deputy Chief Minister R Ashoka said.
The indefinite strike launched by employees of Karnataka State Road Transport Corporation since yesterday has hit bus services across the state and talks with unions which went past midnight last night have failed.
Ashoka, who holds the portfolios of Transport and Home, told reporters here that the government would not be able to meet the wage hike demand given the severe drought faced by the state and hike in diesel prices.
"The government will not be in a position to approve any tariff hike for the road transport corporations, to meet the increased expenditure because it will be a burden on the common man at this time of crisis", he said.
He said the additional burden on the state exchequer because of the 10 per cent hike in basic pay of the employees of the four state-run transport corporations, including Karnataka State Road Transport Corporation and Bangalore Metropolitan Transport Corporation, effective last month was Rs 2,287.20 crore over the four-year period.
Ashoka said the government would not pass it on to the commuters, indicating that ticket fares would not be raised because of the wage increase and diesel price hike.
The annual burden on the four corporations because of the latest Rs 6.13 hike per litre of diesel in the state would be Rs 323.49 crore, the Minister said.
Ashoka appealed to the striking employees to come for negotiations.
The "Karnataka Rajya Rasthe Nigamagala Karmika Sanghagala Joint Samiti" has demanded that the wage increase of 10 per cent already implemented be treated as interim relief and the negotiations continue regarding further revision.
The transport department has made it known that the termination orders issued to trainees yesterday would be withdrawn in the event of the strike being withdrawn.