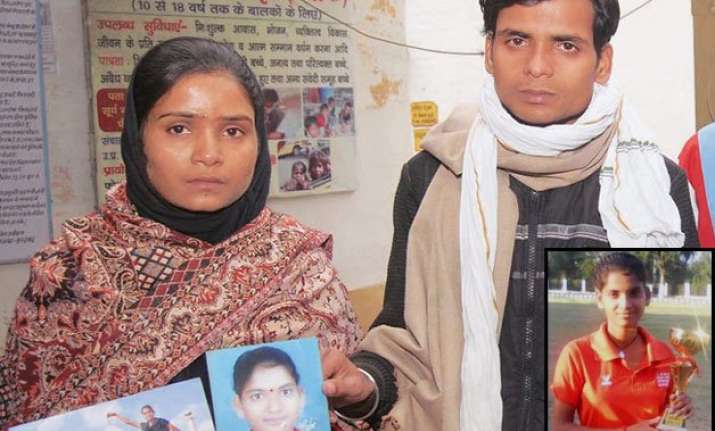 Bareilly: Karishma Sonkar, a national-level girl hockey player from Pilibhit went missing while she was returning home after participating in Under-17 National School Championship in Ranchi.
The 16-year old was traveling on train without reservation from Faizabad to Bareilly when she lost contact with her family on January 10.
She had traveled with her family from Bareilly to Faizabad on December 31st to participate in the tournament that was held from January 3 to 7.
From Faizabad, which was the designated meeting point for all the players they were to proceed together towards Ranchi. And similarly, on the way back, all the players were to disperse to their respective home-towns from Faizabad only.
Sonkar, continued her unreserved train journey from Faizabad when she went missing. Her family has lodged a complaint with the Government Railway Police (GRP) in Bareilly, and held the coach cum manager of the team, Rahul Singh, responsible for her disappearance.
The coach has, however, denied all the allegations. He said that clear rules were made that every player's ticket was reserved till Faizabad only and from there, player's parents were responsible to receive their wards. He said that Karishma's parents didn't turn up when the players were dispersing to their destinations at Faizabad. He even claimed that she had called her parents in front of him and gave them the details of the train from which she was going to travel.
Police, on its part, claims that Sonkar has misled her family as according to her mobile phone details she was in Barabanki and not Lucknow when she contacted her family last. However, SP Railways, Vaibhav Krishna, said the police was taking the matter very seriously and had launched a manhunt to find out the girl.
The girl's brother, Saurabh, accused the coach of carelessness."My sister was not provided a reserved seat on the Jallainwala Bagh Express from Faizabad to Bareilly. All players had reserved seats while traveling to Faizabad and sport authorities had asked parents of the players to make their own arrangements for the onward journey. When the authorities had already arranged for the journey to Faizabad, they could have paid for the ticket to Bareilly as well and charged the difference from us," he fumed.