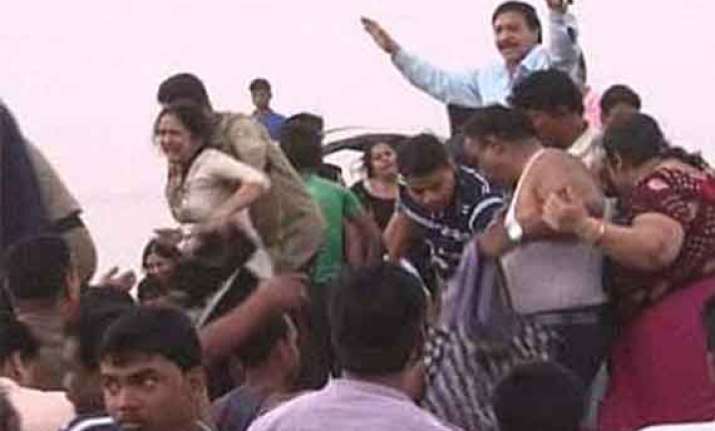 Sambalpur(Odisha) : At least 11 persons, including five women and two children, drowned and nine others were missing after a boat carrying over 90 persons capsized on the Hirakud reservoir in Odisha's Sambalpur district, official said.
"Eleven bodies have so far been fished out and the number of casualty may rise," Special Relief Commissioner (SRC) P K Mohapatra told PTI at Bhubaneswar.  Unofficial sources, however, claimed the rescue teams have recovered 16 bodies from the reservoir of the Mahanadi river.  
The bodies were taken to VSS Medical College Hospital at Burla and District Headquarters Hospital here.  "We have rescued about 80 people from the water. People said about 100 people were in the boat which capsized on the reservoir," said Amitav Panda, a police officer of Ainthapalli Police Station.
Mohapatra said personnel of the Odisha Disaster Rapid Action Force (ODRAF), fire brigade, police and local divers were engaged in rescue operation.
The rescue operation was going on during the night with the help of flash lights, Mohapatra said adding that efforts were on to retrieve rest of the bodies.
The incident took place when around 120 people from the Lion's Club of Sambalpur, Hirakud and Bargarh, who had gone to other side of the reservoir on a picnic, were returning.  "The boat capsized due to over-crowding," Panda said.
 Quoting a survivor, he said "more than 90 people were on board when the boat developed a snag mid-way and water also entered in the boat, which led to the capsize."
As some others were returning in another boat they informed the district administration and police which promptly took action and launched rescue operation, said Sambalpur district collector Balwant Singh.
As the rescue operation was launched without delay, many lives were saved, said police, adding that the rescue team with four country-made boats reached the accident site after hearing scream of the people from another boat.  Chief Minister Naveen Patnaik has expressed grief over the incident and directed the district administration to undertake rescue operation on war footing. He has also announced free of treatment for the survivors.