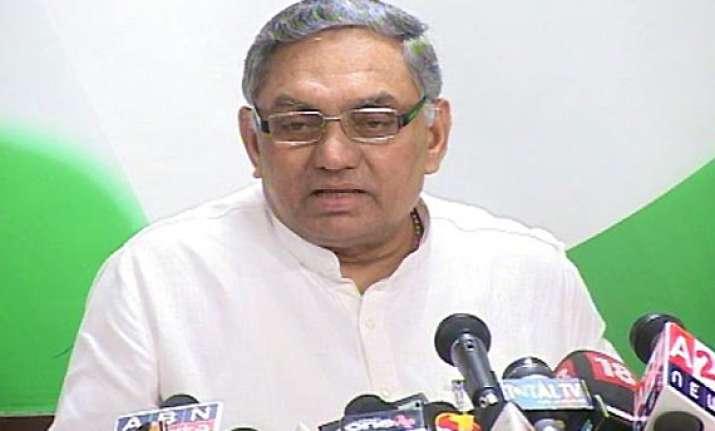 New Delhi, Mar 5: The Congress on Monday virtually snubbed Union Minister Beni Prasad Verma making it clear that it will sit in the Opposition in Uttar Pradesh if it does not get a majority. 

"Congress will form a government if it gets a majority. It will sit in the Opposition if it does not. The party has not changed its position so far," party general secretary Janardhan Dwivedi told reporters on the eve of counting of votes in U.P. and four other States.

Mr. Dwivedi, who is also AICC media department chairman, sought to silence leaders like Mr. Verma who have been giving "individual" views on the issue. Mr. Verma created a flutter with his remarks that the Bahujan Samaj Party will be a better ally for the Congress if it does not get a majority.

"Individuals may have different views but decision is that of the party, which is binding on all. It is also true in the case of Uttar Pradesh," Mr. Dwivedi said.

His remarks also came in the wake of party MP P.L. Punia, a friend-turned-foe of BSP supremo Mayawati, who has vehemently ruled out any post-poll tieup with the BSP, dismissing Mr. Verma's remarks as "absolutely personal".

Mr. Verma is a known detractor of Samajwadi Party supremo Mulayam Singh Yadav, whose close associate he was till a few years back. Mr. Punia was the pointsman of Mayawati having been her Principal Secretary when she was Chief Minister earlier.

Union Minister Rajeev Shukla claimed that Congress will play a crucial role in formation of the next government in Uttar Pradesh

"We will cross the bridge when we come to it. The results have not yet come... To talk about the results before they are out is hypothetical. Congress will have a crucial role in government formation (in U.P.), Mr. Shukla told reporters separately.