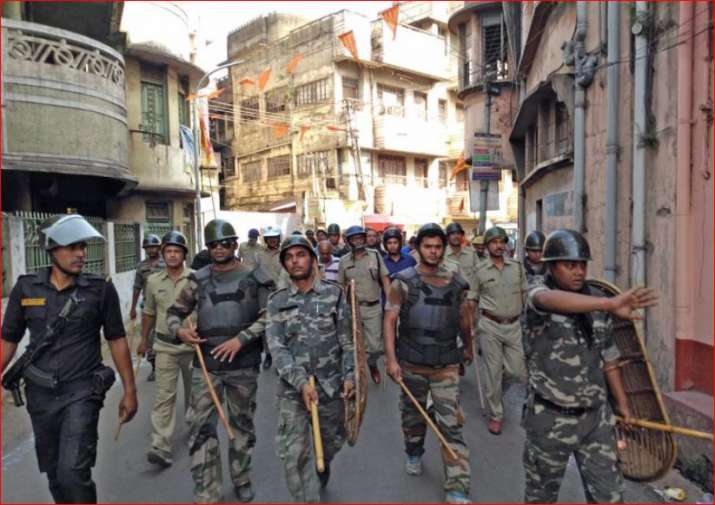 In the wake of violence over Ram Navami celebrations in West Bengal, state police forces are putting in place elaborate arangements to avoid any untoward incident during Hanuman Jayanti celebrations on Saturday. 
Apart from a ban on armed rallies, additional forces will be deployed in each district and police personnel will be placed outside every religious place. 
"Elaborate arrangements have been made. Police will be deployed in every corner of the state, we will keep a tab on any suspicious movement. No one will be allowed to take out armed rallies," a senior police officer said in Kolkata. 
In another development, the Bharatiya Janata Party (BJP) and the Vishwa Hindu Parishad (VHP) have decided that they will not take out any big rally in West Bengal on the occasion of Hanuman Jayanti on Saturday. 
Both the state unit of the BJP and the state leadership of the VHP have decided to restrict their programmes to temples and local clubs during Hanuman Jayanti. 
Also Read | Violence in West Bengal over Ram Navami Rallies: Here's what happened so far in state ruled by Trinamool's Mamata Banerjee
State VHP president Sachindranath Singha said it might create problems if major rallies were taken out. 
"Only last week, we had such huge Ram Navami celebrations, which at some places led to violence. Now taking out rallies on Hanuman Jayanti will send a wrong message," he said, adding that the programmes would be restricted to temples and mutts and that they would be low-key affairs. 
State BJP general secretary Sayantan Basu said the saffron party would not take out any rally on Hanuman Jayanti, but would take part in some programmes organised by the local clubs. 
"Hanuman Jayanti is not as popular as Ram Navami in Bengal and we won't organise any rally. There are so many festivals. It is not possible to celebrate all on a huge scale," he added. 
The ruling Trinamool Congress (TMC) on the other hand will be celebrating Hanuman Jayanti in various parts of the state. 
"We will organise small programmes to celebrate the festival," a senior TMC leader said. 
Besides the deployment of additional forces, mobile police teams would patrol the sensitive areas round-the-clock and special monitoring would be done at the Bangladesh border and the inter-state borders, another police official said. 
"We have reports that those involved in Sunday's violence (in the Asansol and Raniganj areas of West Burdwan district) were outsiders," the official said. 
Chief Minister Mamata Banerjee had held a meeting on Thursday with the state director general of police, ADG (law and order), home secretary and chief secretary. 
Apart from taking stock of the prevailing situation in Raniganj and Asansol, the chief minister had directed the police to make strict arrangements in order to avoid any untoward incident. 
Three persons were killed in West Burdwan and Purulia districts and several others, including police personnel, were injured during Ram Navami celebrations.
Internet services remained suspended and prohibitory orders under section 144, CrPC were clamped in five police station areas in the Asansol-Raniganj area of West Burdwan district, following clashes between two groups on Sunday and Monday over a Ram Navami rally at Raniganj. 
One person was killed and two police officers were injured in the violence. 
In another incident in Purulia, one person was killed and four others were injured after clashes broke out between two groups over Ram Navami celebrations on Sunday.
Watch Video: Situation under control in Asansol, section 144 imposed in the city, internet service suspended
(With inputs from PTI)