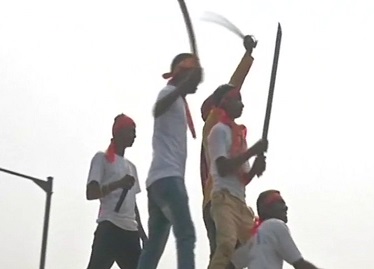 Defying the directive issued by state child rights panel, several children walked with sharp weapons in a Ram Navmi rally in West Bengal's Purulia district on Sunday. 
Minor boys and girls were seen brandishing arms like swrods and knives while chanting the name of Lord Ram during the rally, which was allegedly organised by Bajrang Dal. 
"We have received the report that children took part in Ram Navami rally with weapons in Purulia. We have contacted the local administration and police about the same," Ananya Chatterjee Chakraborty, Chairperson of West Bengal Commission for Protection of Child Rights (WBCPCR) told IANS.
"The District Magistrate's office accepted that the kids started the rally but police took away their weapons as soon as it came to their notice," she added.
Chatterjee said that the panel had sent a directive to all District Magistrates to prohibit children and minors from participating in armed rallies during Ram Navmi as it would have an adverse impact on their psyche.
Meanwhile, defying the Bengal government's ban on carrying weapons in public, several armed rallies were taken out by the Sangh affiliates in various parts of the state including Birbhum, West Midnapore, Howrah and certain places in Kolkata.
A number of heavyweight state BJP leaders were also seen participating in the procession with weapons. State BJP President Dilip Ghosh rallied with a sword in West Midnapore while party's state women wing president Locket Chatterjee was seen carrying a trident. Party's national secretary Rahul Sinha was also seen brandishing a weapon at a rally.
Chief Minister Mamata Banerjee, however, eased the blanket ban on armed rallies, stating organisations that are celebrating the occasion of Ram Navami for more than a decade would be permitted to carry weapons.
The saffron party took out rallies with hundreds of minors including boys and girls in school uniforms with sharp weapons, on occasion of Ram Navami last year, evoking wide-spread criticism from various sections of the society.
(With IANS inputs)