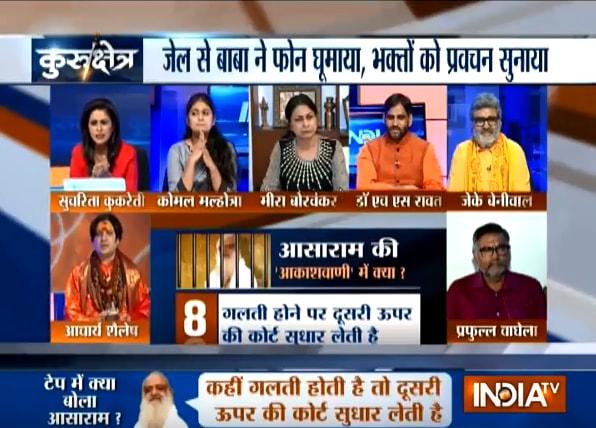 Furore over viral audio tapes of controversial 'godman' Asaram escalated on Saturday after he was heard talking about the 2013 rape case that led to his conviction and life time imprisonment. In one of these audio tapes, Asaram is also heard telling his followers that his time behind the bars is ephemeral and 'good days will come'. 
In a one-way communication, which appeared like a telephonic sermon, Asaram said that he would first arrange for the release of his associates Shilpi and Sharat Chanda who were granted 20-years jail term by a Jodhpur Trial Court on April 25.
With the audio tape going viral, a demand for investigation into the matter is also being made to check the veracity of the clip. Watch India TV's Special show Kurukshetra with guests-- Ex DG Maharashtra Prison Meera Borwankar, Hindu Dharmguru JK Beniwal, HS Rawat, Acharya Shailesh, Asaram supporter Komal Malhotra and Praphul Vaghela, father of victim--for complete insight. 
KURUKSHETRA | Here is the full video: