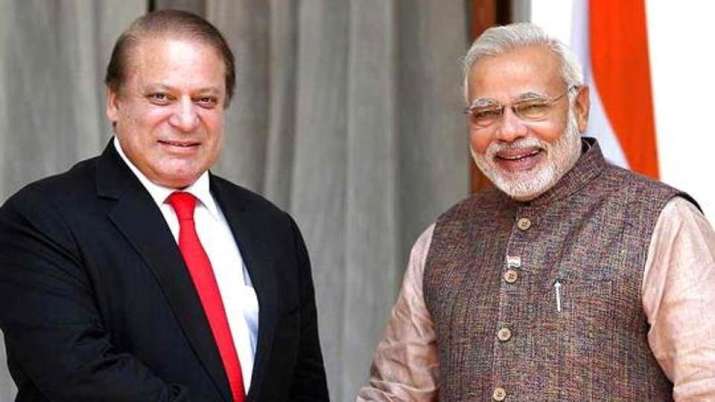 Much was written about Prime Minister Narendra Modi's surprise visit to Pakistan's Lahore in December, 2015 when after only a few months -- in September, 2016 -- Pakistan-based terror group Jaish-e-Mohammed attacked security forces in India.
The Opposition said PM Modi's foreign policy had failed big time.
PM Modi had landed in Lahore on the way from Afghanistan to greet the then Pakistan prime minister, Nawaz Sharif, on his birthday. That was his first visit to the neighbouring country.
To this end, PM Modi, in a historic, and at the same time, exclusive interaction with Rajat Sharma, editor-in-chief and chairman, India TV, said it was unfortunate that Uri attack happened months after his visit, adding he did not send any "love letters" after that and launched surgical strike.
"I said it in your show only -- stop sending love letters to Pakistan when it has been resorting to planned attacks on India. They [the Opposition] used to send love letters, I sent fighter jets," PM Modi said.
About his camaraderie with Sharif, PM Modi said, "I called Nawaz Sharif from Kabul, Afghanistan. I had gone there for a programme. I asked him where he was. He said he was in Lahore. I knew he lived in Rawalpindi; so asked him why he was there. He said it was his niece's wedding. I told him I was in Kabul. He invited me over. So I called up our foreign minister, Smt Sushma Swaraj. She said I threw a bomb at her. I asked her what she thought about it. But she said I should do what my heart said. He had been to my oath-taking ceremony. So I had to visit too.
"Sushma jee spoke to the National Security Advisor and other officials. I did not have anything -- visa and other things. But I said to myself 'jo hoga dekha jaayega'. And normally, the premier of a nation does not travel by his counterpart's chopper but I did that too. I met his family. And we did not have any serious conversation. The biggest message that floated was India actually does not want to harm Pakistan. Unfortunately, [terror attack in] Uri happened later.
"But my unplanned visit had created such a positive vibe that I didn't need to explain to the world who was right and who was wrong. The world knew India wanted peace. But the Opposition does not understand that."
The prime minister rued that the Opposition did not understand the underlying dynamics and said they were so engrossed in dealing with it politically that they failed to look at the logic.
He said, "Unke dimaag mein raajneeti itni ghusi huyi hai ki woh rashtraneeti bhool jaatey hain. Unhein inn cheezon ki samajh hi nahin hai. Par desh ka durbhagya hai aur meri kismat hai ki aisa vipaksh mila hai. Kya karein!? [It is the nation's misfortune and my ill-fate that we have an Opposition like this.]"
PM Modi added he had had a telephonic interaction with the current Pakistan prime minister, Imran Khan, too -- before Pulwama had happened.
"I had a detailed conversation with Imran Khan [the current prime minister] wherein I asked him to fight poverty in each other's nations rather than resorting to terrorism. Imran Khan said 'dekhein main pathhaan ka bachcha hoon, jhooth nahin bolta. Vaayda karta hoon," PM Modi said.But, then, Pulwama terror attack happened.
"Par Pulwama ke baad main unki meethhi meethhi baatein maanne ko tayaar nahin thha," PM Modi added.
On February 14, a suicide bomber, Ahmed Adil Dar, rammed a bus into a CRPF convoy in Jammu and Kashmir's Pulwama and took the lives of as many as 40 jawans.
Later, the Jaish-e-Mohammed (JeM) claimed responsibility for the attack. Jaish is said to be based in Pakistan.
Pakistan, however, continued to maintain it had no links with Jaish.
In retaliation, India carried out an airstrike in Pakistan's Balakot -- in the aftermath of which Islamabad downed New Delhi's MiG 21 Bison fighter jet and captured IAF Wing Commander Abhinandan Varthaman.
Pakistan refuted these reports too, saying the airstrike was never attempted for any damage to have happened. It, however, later released Abhinandan as a peace gesture.