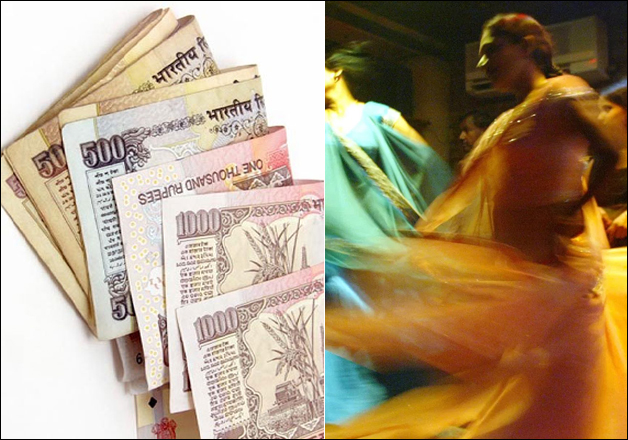 While commercial establishments throughout the nation have stopped accepting the debunked 500 and 1000-rupee notes following government's demonetisation drive, there are places unaffected by the move as they are accepting the scrapped notes without any hesitation. 
According to an India Today report, dance bars that are operating illegally in Mumbai and across Maharashtra seem to have become 'dumping grounds' for black money hoarders, including several businessmen, gangsters and politicians who frequent them. 
Following replacement of Rs 500 and Rs 1,000 notes with the new Rs 500 and Rs 2,000 notes, dance bars across Mumbai and Maharashtra have created a parallel economy for themselves. This involves fake notes – replete with Mahatma Gandhi's photo and a stamp of the 'Children's Bank of India' – that are handed to customers in exchange of old Rs 500 and Rs 1,000 notes. 
These fake notes are available at all dance bars and are being used to shower on the performers. 
Shockingly, these fake notes bear heavy resemblance to the legal tenders and have the signature of 'Santa Clause' as the Governor. 
According to the report, these fake notes have 'I promise to play with the coupon twenty or 20 rupee' with signature of 'Governor Santa Clause' from 'Children Bank of India' printed on them. 
These fake notes began circulating in dance bars a week after PM Modi announced the demonetisation of old high-value currency notes. 
The report further claimed that the fake notes were printed by one person, and similar notes were found across dance bars. Moreover, the women dancers at these bars brazenly accepted the scrapped currency notes in exchange of the fake notes. 
If a customer pays Rs 2,000 cash, he will get parallel currency worth Rs 1,800. These fake notes are showered on women when they dance. 
It has also been found that women dancers are paid in the old currency, after which they are forced to deposit the cash in their bank accounts.