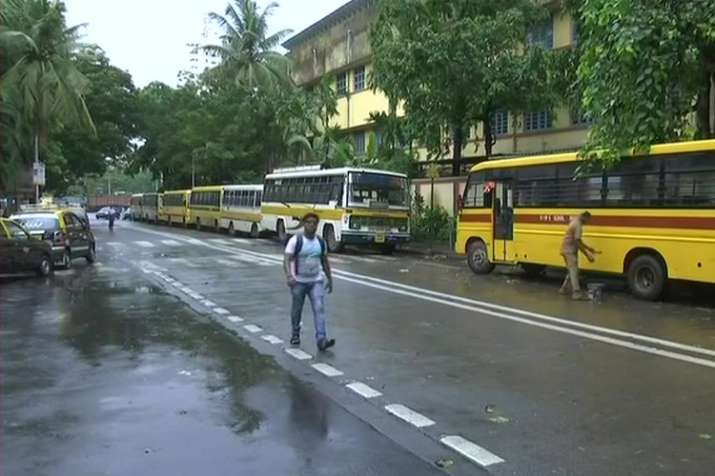 The nationwide indefinite strike by transporters entered second day on Saturday inconveniencing lakhs of people and affecting supplies of essential items. 
In Mumbai, school going children suffered the most as over 8,000 buses and 40,000 buses across Maharashtra remained off roads in support of the strike called by the All-India Motor Transport Congress (AIMTC).
Reports from Madhya Pradesh said the movement of commercial vehicles was affected in many parts of the state. 
Parvinder Singh Bhatia, president of Federation of Madhya Pradesh Motors and Goods Transport Association claimed that 95 per cent of the state's around 25,000 transporters were participating in the stir. 
The strike is unlikely to get over soon as truckers' talks with the government remained inconclusive. 
Mumbai: All-India Motor Transport Congress' nationwide indefinite strike continues for the second day. Locals say 'We are facing a lot of problem. It is tough to send children to school on time. It's also raining so streets and stations are waterlogged. We don't even get a taxi.' pic.twitter.com/IleyIN4OeB

— ANI (@ANI) July 21, 2018
Truckers' key demands include a reduction in central and state taxes by getting diesel under the GST so that price of the deregulated commodity can be reduced.
Truckers are also against the "flawed and non-transparent" toll collection system that favours road concessioners and alleged that the time and fuel loss goes up to Rs 1.5 trillion annually on account of it.