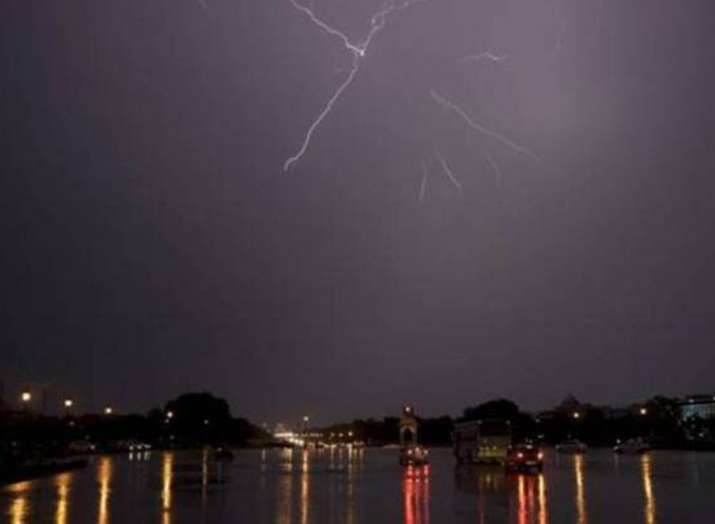 Thunderstorm, squall and heavy rains continue to wreak havoc in North India even as the India Meteorological Department (IMD) has predicted that the threat will continue to haunt the region for next 48 hours. 
The weather anomalies, caused by a western disturbance over north Pakistan and Afghanistan and a cyclonic circulation over western India, have killed around 200 people within this month. 
On Saturday, the storm claimed three lives when an under construction roof fell on people in Uttar Pradesh's Firozabad. One child was also injured, who is said to be in a critical condition. 
Three dead, one child injured after iron sheets to be used in roof of an under-construction building fell in #Firozabad after a medium intensity duststorm hit the area #UttarPradesh pic.twitter.com/0R1A3DuCIJ

— ANI UP (@ANINewsUP) May 19, 2018
The storm also affected normal life in the national capital and surrounding areas, including Noida, Greater Noida, Faridabad and Gurgaon. In western UP's Mathura, a family faced a near-death situation when a tree fell on their car during the storm. No one was hurt. 
Parts of Punjab also witnessed heavy winds and dust storm. 
The Met department has issued a warning that thunderstorm accompanied by a squall and winds gusting up to 70 kmph are very likely to hit parts of North India in next 48 hours. 
On May 13, at least 51 people were killed and 83 others injured in a severe storm that hit parts of Uttar Pradesh.
On May 9, several parts of the state were hit by a severe storm that left 18 people dead and 27 others injured. Five people died in Etawah district, three each in Mathura, Aligarh and Agra, two in Firozabad and one each in Hathras and Kanpur Dehat.
Thunderstorms and lightning on May 2-3 killed 134 people and injured over 400 in UP, Rajasthan, Telangana, Utttarakhand and Punjab. UP was the worst affected, accounting for 80 deaths, most of them in Agra district in the western part of the state.
Watch video: