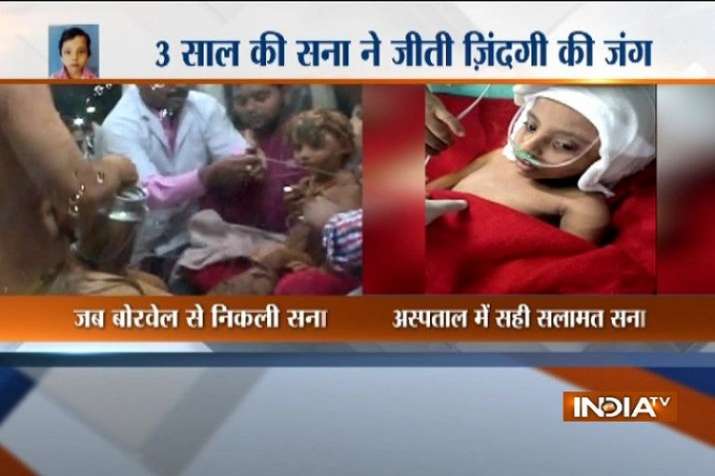 Three-year-old Sana, who was rescued on Wednesday after she had fallen into a 165 ft-deep borewell in Munger, will receive further treatment under a child specialist. The development came after a team of doctors treating Sana on Thursday prescribed her a CT scan.
Earlier during the day, doctors at the local hospital had referred Sana to Patna due to swelling on her facial area. Further decision on shifting her to Patna will be taken once her CT scan report is received.
A team of doctors is continuously monitoring the condition of the three-year-old. According to the medical team, the swelling on her face is a result of the constant pressure she faced inside the borewell.
As per sources, Sana has not been provided meals as she is due to undergo the CT scan test.
Three-year-old Sana fell into the borewell on Tuesday, while she was playing around the area. An alarm was immediately raised by her family members.
Tarpaulin sheets were placed above the trench by the rescue team, to prevent water from seeping as it could have jeopardised the operation.
Also Read | MP Chaurasia: Meet the man who rescued 3-year-old girl Sana from 165 ft-deep borewell after 31-hour long rescue operations in Munger 
Locals and people from the administration have been visiting the hospital in Munger, where Sana is currently undergoing treatment.
After the rescue operations concluded, BJP President Amit Shah congratulated the disaster response team in Bihar for pulling out the three-year-old girl from the borewell in Munger.
The NDRF and state disaster response force personnel worked tirelessly for hours to pull her out, Shah said in a tweet.
He also wished well for Sana, who had slipped into a 165 ft deep borewell on Tuesday.
Sana was rushed to a hospital in an ambulance after the 31-hour long rescue operations had come to an end.