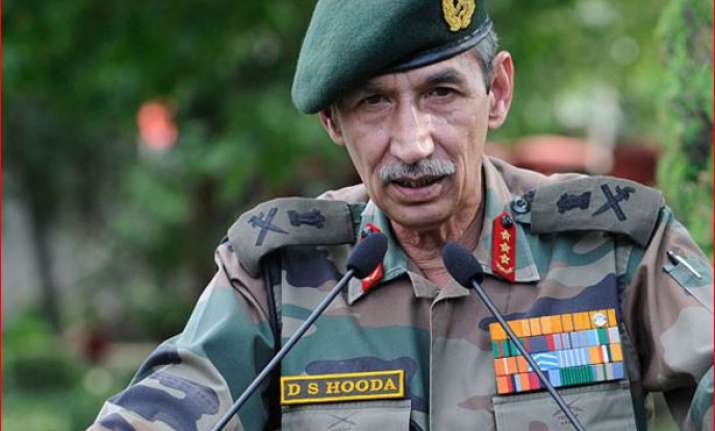 The cross-LOC surgical strike last year was carried out by Indian troops to send across a "strong message" to Pakistan, which could not have been conveyed through other means, former General Officer Commanding-in-Chief of Army's Northern Command Lt. General D.S. Hooda (retd) has said.
Hooda, who oversaw the September 2016 attack across the Line of Control in Pakistan as then head of the Northern Command, told a news channel  that they were also prepared for retaliation from Pakistan's side but it did not happen.
Asked why the Indian Army chose to go across the LoC to destroy the terror launch pads instead of using air attack or any long-range attack weapon, Hooda said those attacks would not have sent across the same message.
"I think a strong message has to be sent sometimes. You can say you could have done it from air, from long-range artillery... I think a message had to be sent out, a strong message had to be sent out," Hooda told the news channel.
"After the June 2015 strike (by the Indian Army across India-Myanmar border), a lot of statements had come from Pakistan -- from their Interior Minister as also their official spokesperson -- which said Pakistan is not Myanmar, and we will give a befitting reply if India resorts to any adventurism. Those were the kind of statements that were made.
"Once the surgical strike was carried out, they just went totally quiet. I think that was more of a moral victory," he said.
"The kind of message we wanted to send across, I don't think could have been done by strikes from afar."
Asked whether they anticipated any retaliation, Hooda said: "We had, and why not? It would be unprofessional to say there will be no retaliation, and that we shouldn't plan for it."
"We were prepared, we were ready. But, as I said, I think the Pakistanis were quite shell-shocked. The minute they said surgical strike did not happen, we knew that a response from their side will at best be very very limited," the retired Lt General said.
A surgical strike was conducted by the Indian Army on September 28-29 night in 2016 on terror launch pads across the Line of Control in Pakistan-administered Kashmir.
The strike came following a terrorist attack at an Indian Army camp at Uri in Jammu and Kashmir, in which 19 soldiers were killed.
In June 2015, the Indian Army had carried out a surgical strike along the India-Myanmar border on camps of Nationalist Socialist Council of Nagaland (Khaplang) militants, days after an ambush in which terrorists killed 18 Army men in Manipur.