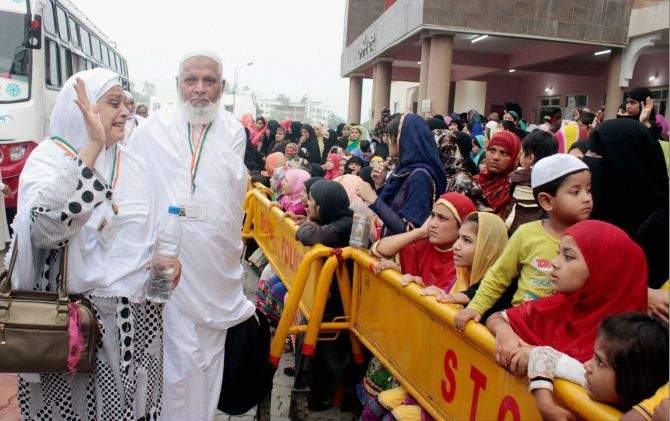 The Narendra Modi Government on Tuesday decided to end subsidy on Haj from this year saying the decision is a part of its agenda of empowerment of minorities without appeasement.
"Subsidy on Haj over from this year," said Minority Affairs Minister Mukhtar Abbas Naqvi.
"Haj subsidy funds will be used for educational empowerment of girls and women of minority community," Naqvi added while talking to reporters in New Delhi on Tuesday.
Naqvi told reporters that despite the subsidy withdrawal, a record number of 1.75 lakh Muslims will undertake the pilgrimage this year from India. 
He also said that the Saudi Arabian government has in principle agreed to allow Haj journey from India by ships and officials of the two countries will sit together to finalise the modalities. 
WATCH VIDEO HERE:
What is Haj subsidy
The Haj subsidy is a subsidy given to Muslim Haj pilgrims by the Central Government in form of discounted Air fares on Air India. The Haj subsidy includes an airfare subsidy as well as assistance to Muslim pilgrims for domestic travel to reach specially designed Haj departure airport terminals, meal, medical care and lodging assistance provided by the Government.
In India, Haj subsidy started in 1954, as an idea initiated by the then government, with flights between Mumbai and Jeddah.
The average airfare subsidy was about Rs 73,526 (USD 1,200) per Muslim pilgrim in 2008; while the average non-airfare financial assistance was Rs 2,697 (USD 42) per pilgrim.
The total subsidy provided by the Government was USD 1,815 per Muslim pilgrim in 2008. 
The Haj subsidy was modified in 1973, when the Central government abolished sea travel as a means of making the Hajj for two reasons - rising oil prices after formation of OPEC and a ship accident that killed 39 pilgrims in June 1973 during the government managed Haj trip.
The government of India replaced the means of travel to Saudi Arabia from ships to aircraft and increased the subsidy to cover the difference between sea and air fares.
In May 2012, the Supreme Court of India bench, comprising of Altamas Kabir and Ranjana Desai, ordered the government to end the practice by 2022.
We direct the Central government to progressively reduce the amount of subsidy so as to completely eliminate it within a period of 10 years from today," said a bench of Justices Aftab Alam and Ranjana P Desai.
In a Central Haj Committee meeting in November 2017, it was decided that Haj subsidy will be completely phased out in 2018 and funds will be utilised on educational programmes especially for girl children of the minority community.