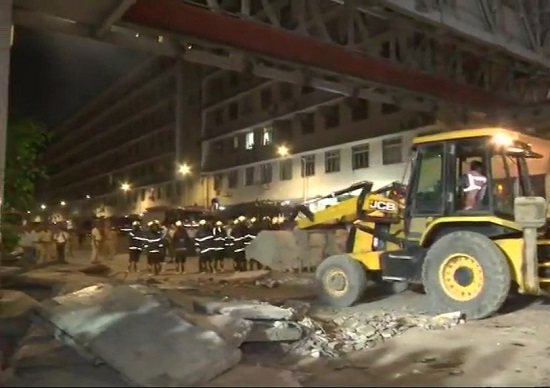 Today's CST bridge collapse, which has claimed at least four lives and has left three dozens others injured, is unfortunately third such tragedy in last two years. 
In a story of neglect, tragedies caused by overbridge collpase have become common place in Mumbai. 
Elphinstone stamepede:
On 29 September 2017, a stampede broke out at the sub-urban Elphinstone Road railway station in Mumbai, India. At least 23 people were killed and 39 others were injured in the stampede. The incident took place between the Parel railway station and Elphinstone road railway station.
A rumour that the pedestrian bridge was collapsing was suspected to have caused the passengers to surge forwards to flee, resulting in stampede. 
Andheri bridge collapse:
On June 3, last year a railway bridge collapsed during incessant rains in Mumbai's Andheri. The road overbridge, built in 1971, collapsed near the eastern side of the Andheri railway station and part of it fell on rail tracks. At least five people were reported injured even as a major tragedy was averted as an alert passenger train driver applied brakes in time to avoid being hit by bridge debris. 
CST overbridge collapse: 
At least 4 people have been killed and 34 others have been injured after a foot overbridge collapsed at Mumbai's CST railway station. The bridge is being reported as 30 to 40-years-old and was marked for repair. 
Negligence by authorities: 
The common denominator in three tragedies has been the gross neglect on the part of authorities responsible for the upkeep of the bridges. 
The Elphinstone tragedy had called for a major backlash as eyewitnesses said that the incident could have been averted if the emergency reponse was appropriate or the bridge had been expanded in time as per the demand of the station. 
In the aftermath, railway minister Piyush Goyal said that the government has ordered a probe into the incident. He also ordered a safety and capacity audit of all foot overbridges at suburban stations across Mumbai. 
However, it did little benefit. The Andheri bridge had reportedly cleared the said audit days before it collapsed. Similarly, only minor repair in the CST was identified during the audit. The repairs had been carried out only few days before the collapse.