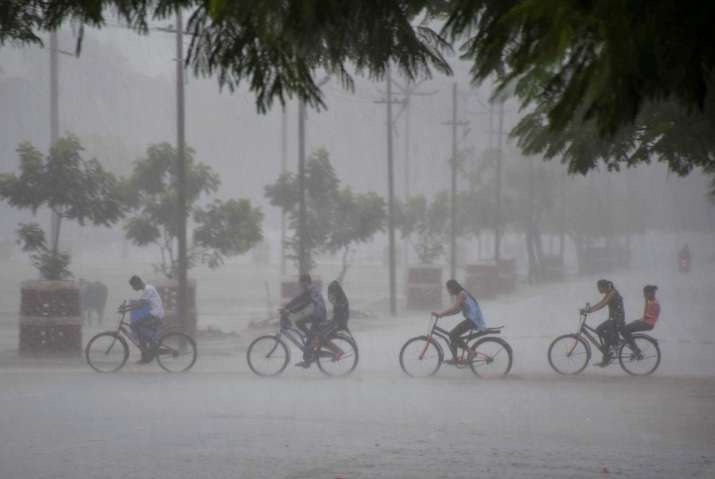 Heavy rains continued to lash most parts of Himachal Pradesh, with Shimla recording the highest rainfall in a day in the last 68 years, the Meteorological (MeT) department said. 
"As per the rainfall recorded on Tuesday, Shimla witnessed 118.6 mm rains during the last 24 hours. This is the highest rainfall in the city in a day in the last 68 years as per the data available with our department since 1951," Met department director Manmohan Singh told PTI. 
"The previous highest rainfall in Shimla was at 108.4 mm, recorded on April 15, 2005," he said. 
The weatherman said that the rainfall in Shimla occurred due the formation of tall cumulonimbus clouds and moisture incursion from both the Arabian Sea and the Bay of Bengal. 
"When monsoon shifts from south to north close to foothills, such heavy rain occurs," he said. 
Heavy rainfall occurred at isolated places in Bilaspur, Solan, Sirmaur and Una districts. 
During the last 24 hours, 109 mm rain was recorded in Dharampur followed by Berthin 93, Jhandutta 85, Bharwain 74, Pachhad 72, Baijnath and Kahu 68 each, Bilaspur-65, Kasauli-60, Arki- 52, Banjar 48, Dehra Gopipur, Mandi and Gohar-45 each, Ghumarwain and Bangana-44 each, Naina Devi-40, Aghar-39, Solan and Sarkaghat and Sunnibhaji-27 each, Amb-25, Gaggal-24, Paonta Sahib, Rajgarh and Jogindernagar 22 mm each. 
Rainfall is likely to occur at isolated parts of the state tomorrow, Singh said, adding that scattered rains will take place in the state from July 5 to 7.