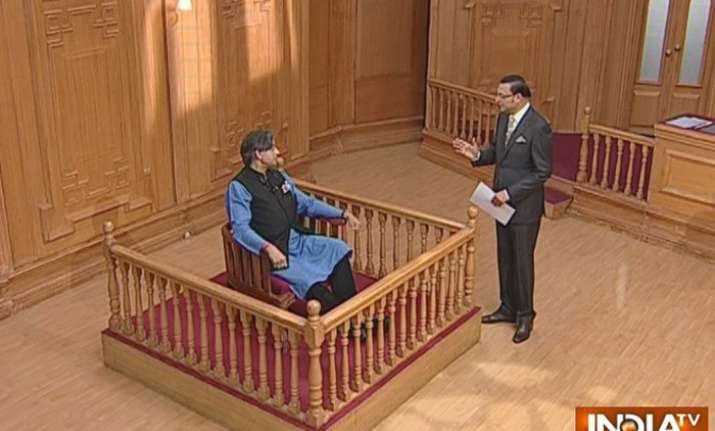 Senior Congress leader and Thiruvananthapuram MP Shashi Tharoor on Saturday night took questions from India TV Chairman and Editor-in-Chief Rajat Sharma in his popular show "Aap Ki Adalat". Known for freely expressing his mind on the issues of national and international importance, Shashi Tharoor stirred a controversy recently after he said that India will become a "Hindu Rashtra" if the ruling BJP retains power in 2019 Lok Sabha elections. He answered questions on issues ranging from the existing political scenario in the country to the future of Indo-Pak relations under prime ministership of Imran Khan as well as the Sunanda Pushkar death case.
Highlights:
Watch full episode here: 
11:00 pm: Answering a question on why he uses tough words of English, Shashi Tharoor said, "Communication should be understood. So yes, simpler words should be used. Mostly I use simple words, but I do tell meanings to people if at all I use other words.": Shashi Tharoor
10:55 pm: I don't take Subramanian Swamy seriously, says Shashi Tharoor
10:54 pm: Shashi Tharoor refuses to answer a question on allegations leveled by BJP MP Sunramanian Swany in this case.
10:53 pm: "It is a motivated prosecution. Let police prove in court if it is a case of suicide...Sunanda never said that I did anything against her, never. All these matters are before the court. I am contesting this in court," says Shashi Tharoor
10:51 pm: My 80-year-old mother cried when she heard all these allegations against me in this case, says  Shashi Tharoor
10:50 pm: Shashi refuses to answer questions relating to the death of his wife Sunanda Pushkar saying the matter is sub judice.
10:45 pm: "Imran can do only to the extent his country's Army permits. If Army decides to have peace with India, then Imran can be a good face for a peace policy. But if their Army decides to do the opposite, then he can become the face for that too," says  Shashi Tharoor
10:42 pm: When asked about the future of Indo-Pak relations under Imran Khan as PM, Shashi Tharoor said," Imran Khan is a good man but no Pakistani PM can go against the will of Army."
10:40 pm: I think I was the only one in Congress party to have admitted BJP's good move on International Yoga Day, says Shashi Tharoor
10:37 pm: We may have differences in politics, but on issues of national security...there is no BJP or Congress policy. There is only Indian policy, says Shashi Tharoor
10:35 pm: Surgical strike was a good decision of Modi government, says Shashi Tharoor
10:35 pm: When asked what inspired Rahul to hug PM Modi in Parliament, Tharoor said, "Most probably he got the cue from Modi ji, because he hugs world leaders wherever he goes."
10:33 pm: Yes, I appreciated PM Modi for his energy that was reflected by the number of his foreign tours. However, what was the impact of these visits. Look at our relations with our neighbours: Shashi Tharoor
10:31 pm: Rahul's hug doesn't mean he supports PM Modi, says Shashi Tharoor
10:22 pm: You saw what happened in Alwar. I had said, "It appears that in some places in our country it is safer to be a cow than a Muslim", says Shashi Tharoor
10:21 pm: ​We don't want any respect from Hafiz Saeed. We would like to hand over any such Congress member to police who meets him
10:20 pm: Terrorists have no religion, there are individual actions, says Shashi Tharoor
10:19 pm: Who will stop BJP from making India Hindu Rashtra the day it gets majority in both Lok Sabha and Rajya Sabha, says Shashi Tharoor
10:15 pm: If Muslims were appeased for 70 years, why are they so poor and under-educated? There was no appeasement, such allegations are baseless, says Shashi Tharoor
10:13 pm: Rahul Gandhi did not say that Congress is a party of Muslims only. He said that it a party of Muslims as well: Shashi Tharoor
10:10 pm: When BJP Yuva Morcha workers attacked my office in Kerala, I asked at a rally next day, whether these people want to bring Taliban in Hinduism? This was distorted in reporting as Hindu Taliban, says Shashi Tharoor
10:07 pm: I have been a bhakt of Swami Vivekananda since my childhood, says Shashi Tharoor
10:05 pm: At seminar in Trivandrum, I said, that if the present BJP leaders do not change their views, there is a risk of a Hindutva version of Pakistan taking place in India. That would be a Hindu Pakistan,but I know majority of Hindus do not subscribe to this, says Shashi Tharoor
10:04 pm: Those who challenged Idea of India over the years are in power today, says Shashi Tharoor
10:02 pm: Shashi Tharoor arrives in the show, takes his seat
10:00 pm:  Rajat Sharma's popular show "Aap Ki Adalat" begins on India TV
Watch: Here's what Shashi Tharoor said on Imran Khan
Watch: Congress leader's humorous response on Rahul Gandhi 's hug to PM
Watch: Nobody can stop Hindu Rashtra if BJP wins 2019 Lok Sabha polls. says Shashi Tharoor
​​