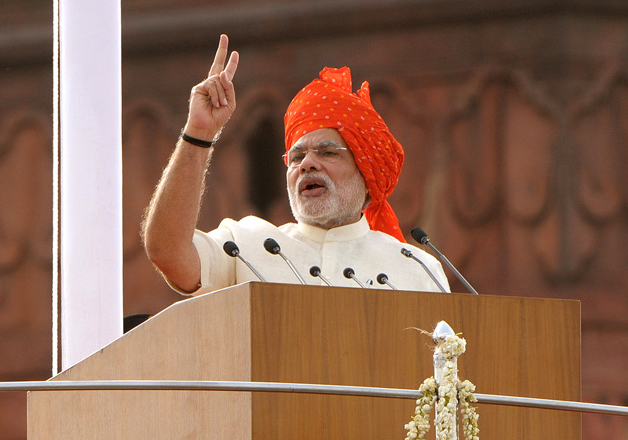 Terrorist attacks are at an all-time high this year ahead of the Independence Day, keeping security forces on their toes round-the-clock.
It is learnt that security agencies have asked NSA Ajit Doval to insist Prime Minister Narendra Modi to address the nation from the ramparts of the iconic Red Fort on August 15 from within a bulletproof glass enclosure.
According to a report in Times of India, officials believe that the Prime Minister will not ignore the advice of Doval this time and use the bulletproof enclosure keeping the immense security threat in his mind.
Reports suggest that the security agencies don't want a repeat of last two year's episode, when Modi, in a last-minute decision delivered his Independence Day speech from the ramparts of the Red Fort minus the usual bulletproof glass enclosure.
The bulletproof enclosures at Red Fort became a tradition after Indira Gandhi's assassination. But in 2014, when Modi addressed the nation for the first time, he broke this tradition. This surprised security agencies, switching to another plan to ensure full-fledged security of Modi.
The report quoted a senior official as saying that the recommendation was not just because of the recent Kashmir unrest or the increasing infiltration bids, it was also because the security agencies had intercepted communication that terror groups may use drones to breach the Prime Minister's security.
Also the ISIS threat is another factor that forced the security agencies to insist for a bullet-resistant glass enclosure for the Prime Minister.
The intercepts have also revealed that militant groups may launch coordinated attacks or lonewolf attack on August 15, targeting the PM. The central intelligence agencies have already informed the SPG, responsible for PM's security, and anti-terror units about this, following which an "unprecedented security arrangement" has been made for Modi.
Meanwhile, reports say that around 5,000 SPG men, IB, paramilitary forces and Delhi Police have secured the area covering Red Fort alone. High-resolution cameras are likely to be installed on Red Fort's towers to keep an eye on every movement in and around the Red Fort.