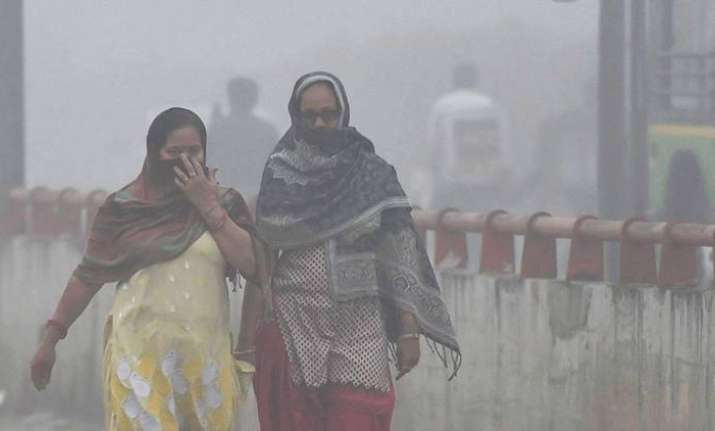 As residents of Delhi and adjoining areas continue to brave 'hazardous' conditions with a thick grey smog enveloping the national capital region for the third consecutive day today, political leaders appear to have taken the battle on air pollution to the virtual world instead.
The dense smog caused by alarming levels of air pollution has thrown normal life out of gear, affecting road, rail and air traffic. The Indian medical Association has issued a 'public health emergency' in the national capital, construction activities will be halted and entry of trucks in the city will be banned as part of emergency measures.
Chief ministers of the stakeholders in this crisis, however, appear bent on shirking responsibility and political one-upmanship. Throwing the ball in the Centre's court appeared to top the agenda for Arvind Kejriwal and Amarinder Singh, the chief ministers of Delhi and Punjab, respectively.
Aam Aadmi Party (AAP) supremo Arvind Kejriwal on Wednesday said that he wanted to meet chief ministers of Punjab and Haryana to discuss the situation on smog and excessive pollution that has enveloped North India. He sent letters to both the CMs and then also put them out on Twitter in a bid to assure the people of his concern on the situation.
Delhi CM @ArvindKejriwal writes to Haryana CM @mlkhattar & Punjab CM @capt_amarinder asking for meeting to resolve crop burning & pollution issue. pic.twitter.com/0XX0rZYcbd

— AAP (@AamAadmiParty) November 8, 2017
Amarinder Singh, on the other hand, responded saying that inter-state discussions would bear no fruit and that 'Centre can alone solve the problem, given its national implications'.
Share your concern over stubble burning and pollution @ArvindKejriwal, Centre alone can solve the problem given its national implications.

— Capt.Amarinder Singh (@capt_amarinder) November 8, 2017
Haryana Chief Minister Manohar Lal Khattar, on the other hand, has assured that the state government was taking all possible measures to ensure that there is no stubble burning by farmers. Just a day earlier, Haryana minister Anil Vij had said that though the state government was acting against this menace, the problems of the farmers were genuine, implying there was little that could be done to counter stubble burning.
This is a matter of concern, we have taken all possible steps in Haryana. We have also requested people burning stubble to not do so: Haryana CM ML Khattar pic.twitter.com/LxrsUlhGll

— ANI (@ANI) November 9, 2017
None of the kneejerk reactions by the top public representatives of the three states match the level of response that the situation requires. The fact that stubble-burning by farmers in Haryana and Punjab is responsible for worsening Delhi's air quality is no new revelation. Each year, people are faced with the same problems and the response, by and large continues to be repetitive, with no solution-based approach one can put a finger on.
The response by the Centre too does not appear to be too convincing. Union Environment minister Harsh Vardhan is in Germany, but tweeted  saying the EPCA should effectively implement identified steps in a practical manner so that the visible improvement is seen on ground.
"I would like to assure people that the central government shall do everything possible to bring about improvement in air quality in Delhi and NCR," he said.
Neither of the parties appear interested in solving the moot issue of stubble-burning that results in the health hazard that citizens face year after year. What's worse, the situation only seems to be deteriorating.
Shockingly, as the smog situation worsens in Haryana, latest visuals show stubble burning continuing unabated in Rohtak. This burning of agricu;ltural waste to make way for fresh crop sowing has been recognised as the primary reason behind the deterioriating air quality in the National capital and adjoining areas.
However, the response by the state and central governments have been limited to meetings and closed-door discussions, with little to show in terms of providing an alternative to farmers.
As things stand today, the common man is suffering and will, perhaps continue to do so until political leaders shun tokenism and get down to addressing the root cause of the problem.