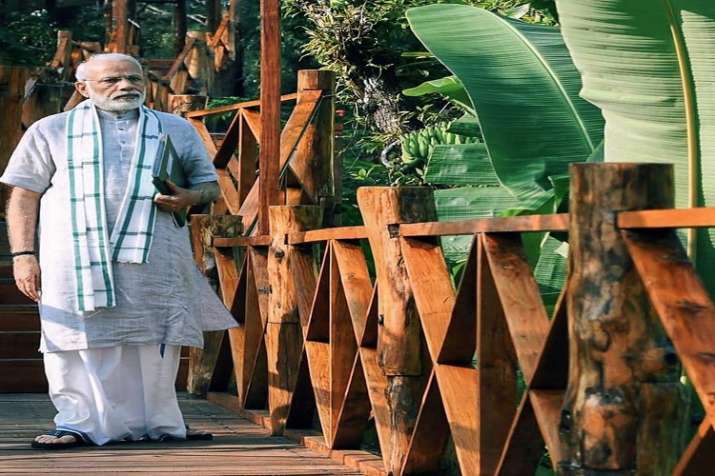 Prime Minister Narendra Modi on Sunday renamed three islands in Andaman and Nicobar, naming one of them after Subhash Chandra Bose.
Addressing a public function in Port Blair, Modi said the three islands — Ross Island, Neil Island and Havelock Island — will now be called Netaji Subhash Chandra Bose Island, Shaheed Dweep and Swaraj Dweep.
Modi asked people to take out their mobile phones and switch on the flashlights as a gesture to pay tribute to Netaji Subhas Chandra Bose.
The PM hoisted a 150-feet-high national flag at Port Blair to mark the 75th anniversary of freedom fighter Subhash Chandra Bose's declaration of the formation of the Azad Hind government in 1943.
Assuring people of solving the problem of water and electricity in Andaman, Modi said the height of Danikari Dam is being increased so that there is no problem of water for the next 20 years.
Earlier in the day, the PM congratulated the people of Car Nicobar for overcoming the impact of Tsunami, which struck the Island in 2004, and said the government is working to provide better facilities to the people of the Andamans.
Hailing the joint family system prevalent in the island, the PM said the people there can set an example for the other parts of the country.
He also assured the people that their security is one of the top priorities of the government.
"The people here have been demanding a solution to the problem of sea erosion for a long time. I am glad to announce that the government has decided to erect a sea wall to deal with the problem, the foundation of which was laid today," he said during his public address at BJR Stadium in Andaman.
The PM maintained that work will go in full swing to get build the wall at an estimated cost of Rs 50 crore.
Talking about the initiatives taken by his government for the farmers here, he said Minimum Support Price (MSP) of coconut husk has been increased to Rs 9,000 per quintal from Rs 7,000.
He stressed on the importance of solar power use for the preservation of environment.
Watch: PM Modi renames 3 island in Andaman
(With inputs from agencies)