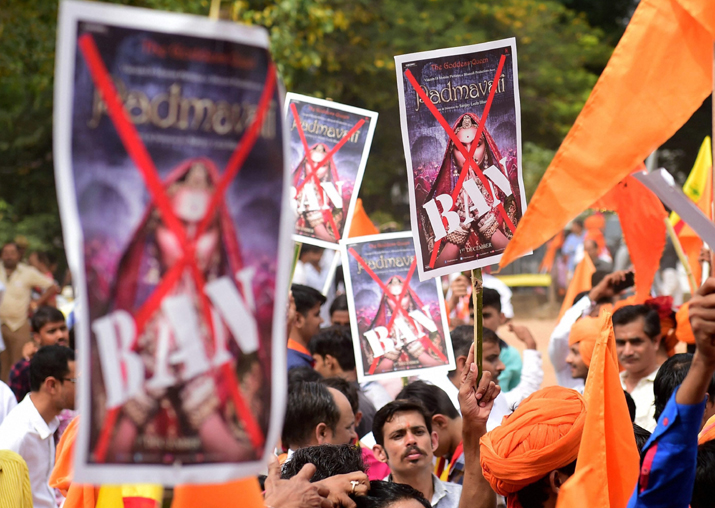 The Uttar Pradesh government has written a letter to the Ministry of Information and Broadcasting seeking deferment of the release of Bollywood film 'Padmavati', saying allowing the screening of film is not in the public interest.
In its letter, the Yogi Adityanath government asserted that the release of film on December 1 may cause serious law and order problem in different parts of the state.
The government has cited about the upcoming civil polls and Barah Wafat in its letter, making it a fragile period for the law and order machinery. 
It said that most of the government machineries would be busy in civil polls and Barah Wafat which falls on December 1 and 2. Muslims would be taking out processions on Barah wafat to mark the birth and death anniversary of Prophet Mohammad. It argued that the celebrations become grander every year.
The letter by the state Home department also asked the Union Secretary of the Ministry to take public view and dissent on the matter into consideration before the film is allowed to be screened at cinema halls.
"Hostile reactions like effigy burning, slogan shouting, vandalism, demonstrations, submission of memorandums are taking place," top-ranking Home department official Arvind Kumar said in the letter. 
Film theatre and multiplex owners have also received threats of disruptions if the film is screened, Arvind Kumar further informed the ministry. 
In light of these issues, it would be pertinent to raise the matter before the CBFC, the official further said.
Earlier today, the Shri Rajput Karni Sena called for a 'Bharat Bandh' (shutdown) on December 1 if Sanjay Leela Bhansali's movie 'Padmavati' releases on that date.
The outfit claimed that as per the Cinematography Act, the government can withhold the release of a movie for three months even after a go-ahead by the Central Board of Film Certification (CBFC) and it can be extended further. 
Bhansali has been facing the ire of various groups and self-styled experts on what they term as 'erroneous' depiction of Rajput queen Rani Padmavati. There have been protests and violence against Bhansali and opposition to the film right from the time it was being shot at various locales in different parts of India and now, as it prepares for release globally soon.
Barring these groups and individuals, the entire film fraternity and civil society members have expressed support to Bhansali for his latest film venture.