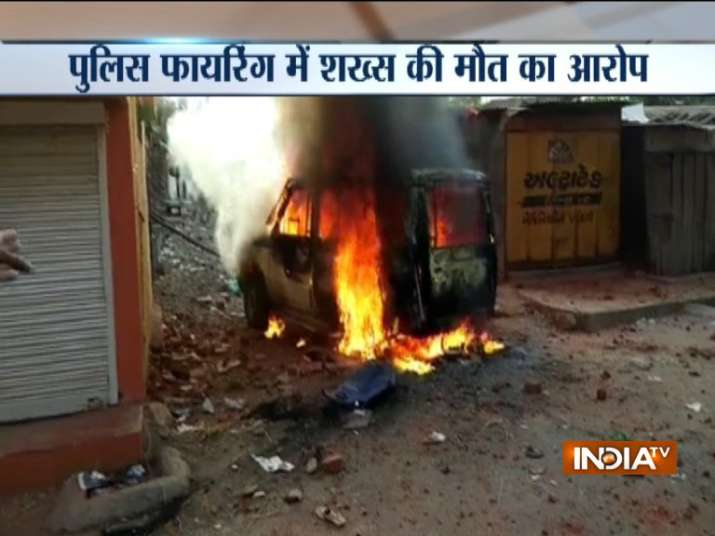 One person was killed in firing and two other seriously injured after violence broke out following the death of the brother a robbery accused soon after he was let off after questioning in Jeswada village of Dahod's Garbada taluka in Gujarat on Thursday.
A huge mob comprising tribal residents of the nearby Chilakota village and surrounding areas gheraoed the Jeswada police station and started pelting stones. Protesters also set fire to a police vehicle, forcing cops to lob tear gas shells and resort to firing to control the situation.
As per reports, Ramsu Mohaniya, a resident of Usarva village, had died due of gunshot wounds but it was not clear whether this happened in police firing or private firing.
One injured was rushed to Vadodara's SSG Hospital as his condition deteriorated while another was being treated at a private hospital in Dahod. "We have also got reports of the death of this person and we are trying to confirm," Panchmahal Range IG Brijesh Kumar Jha said.
The ordeal began on Wednesday night when police picked up two persons - Kanesh Gamar and Raju Gamar - for questioning from Chilakota. Both persons, brothers of Naresh Gamar, an accused wanted in the series of robbery offences, were picked up from Naresh's house when the police reached there on receiving a tip-off.
After questioning, the police said it dropped the duo at their village. However, Kanesh died immediately after reaching home. His family alleged that he was beaten up and died due to the injuries.
The family and residents of Chilawada demanded that a murder offence be registered against the policemen and brought Kanesh's body to the Jesawada police station, insisting that they would not cremate him till an offence was registered.
As per police officials, the men were dropped back after being interrogated in the presence of some village elders.
"When the allegations were made by the family, we explained the procedures to them and the body was brought to the police station. But a mob later surrounded the police station and started pelting stones," SP Prem Singh said.