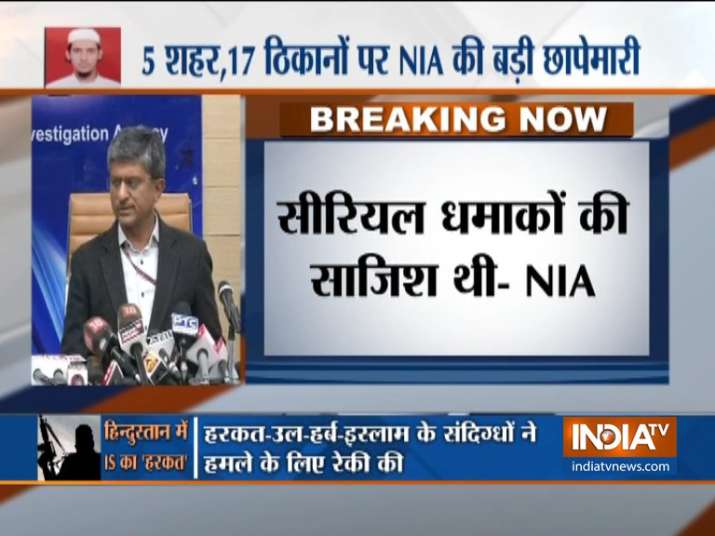 The National Investigation Agency(NIA) on Wednesday said that ISIS-linked terrorists were planning to launch suicide attacks in national capital Delhi and north India.
According to the NIA IG Alok Mittal, raids were conducted in 16 locations across 5 cities of UP and Delhi during which 16 people were detained. Out of these 16, 10 people have been arrested.
"Searches have been conducted in Delhi's Seelampur and UP's Amroha, Hapur, Meerut and Lucknow. Large quantities of explosive material, weapons and ammunition including a country made rocket launcher have been recovered so far," the NIA IG added.
He also disclosed that the gang leader of the module is Mufti Sohail who stays in Delhi and is a native of Amroha in UP where he works at a mosque.
The NIA IG added that nearly 100 mobile phones, 135 SIM cards, laptops and memory cards were also seized during the raids.
Cash worth Rs 7.5 lakh was also recovered in these raids. 12 pistols  and 25 Kg explosives were also recovered in these raids.
Alok Mittal revealed that the terrorists were planning to target political persons, other important personalities as well as vital security installations.
According to the NIA IG,  the level of preparation of the terrorists suggested that their aim was to carry out explosions in near future by remote control blasts  and suicide attacks.
"This is a new ISIS inspired module, they were in touch with a foreign agent. Identities are yet to be established," he added.
Earlier the NIA detained 16 people in connection with its probe into a new ISIS module which was allegedly planning to carry out blasts in north India, especially in the national capital, officials said.
The agency conducted searches across 16 locations in Uttar Pradesh and New Delhi in connection with its probe into the new ISIS module called 'Harkat ul Harb e Islam'.
"The searches are going on," an NIA spokesperson said. The searches started at different locations earlier on Wednesday.
In Uttar Pradesh, where NIA conducted joint searches with the states Anti-Terror Squad (ATS), five persons were detained in Amroha district. The official said that one of the alleged module head Suhail was also detained from Amroha. 
Meanwhile, in east Delhi's Jafarabad area the NIA carried out searches with the Delhi Police's Special Cell. 
Visuals from Amroha where NIA is conducting searches in connection with a new ISIS module styled as 'Harkat ul Harb e Islam'. Searches are underway at 16 locations in Uttar Pradesh and Delhi. pic.twitter.com/aCp03AYRr6

— ANI UP (@ANINewsUP) December 26, 2018
WATCH VIDEO: