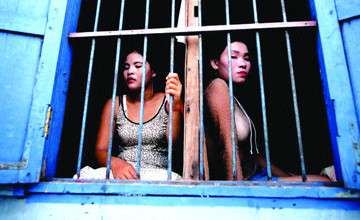 One of the main accused and "muscleman" of the GB Road prostitution and human trafficking racket, which was busted by Delhi Police last month, surrendered before the Crime Branch today.
"Sarfaraz came to the Crime Branch office today around 2pm and surrendered. We were on the lookout for him ever since the racket was busted and Afaq and Saira Begum were arrested," said a senior Crime Branch officer.
A team led by DCP (Crime) Bhisham Singh had been conducting raids across Bulandshahar where Sarfaraz alias Billi was suspected to be hiding.
The police is also conducting raids in various cities of Uttar Pradesh to arrest other accused.
Last month, Delhi Police had arrested a couple and their six associates for running a vast network of human trafficking and prostitution racket in the red light area of GB Road in the heart of national capital, booking them under provisions of the stringent MCOCA Act.
Police had unearthed properties and bank deposits to the tune of several crores besides four luxury cars owned by the couple. They possessed four properties in Delhi and two in Bangalore apart from indirectly owning portions of half-a-dozen Kothas on G B Road.
It was revealed that Sarfaraz was the muscleman of the racket and used to coordinate with other henchmen from other cities, the officer said.
During the interrogation, it was found that the syndicate has reportedly raked in around Rs 100 crore till date as they "bought" girls for Rs 50,000 and sold them for up to Rs 2 lakh. The younger the girl, the higher the price they quoted.
(With PTI inputs)